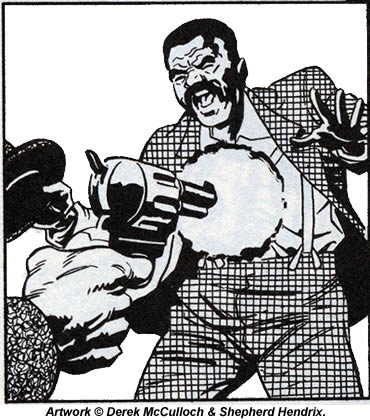 But Lyons was not the only one with money and power behind him. Only a day after he was arrested, Shelton had already recruited a top-flight lawyer of his own. Nat Dryden was a brilliant Missouri lawyer, who had secured the state's first-ever conviction of a white man for killing a black man.
He was also an alcoholic and an opium addict but these habits did nothing to inhibit his courtroom performance. Dryden was a fierce cross-examiner and a powerful orator. He'd proved himself capable of winning even the most unpromising murder cases, and he would not have come cheap.
Either Shelton was a wealthier man than his lifestyle suggests, or he had rich friends. On January 4, 1896, he paid $4,000 bail to get out of prison while he waited for his trial. He was jailed again later that year, on what seem to be unconnected charges, and freed again after someone called Morris Schmit provided another $3,000 in bail.
With Bishop in one corner and Dryden in the other, Shelton's trial was shaping up as a fascinating proxy fight between St Louis' leading politicians. The St Louis Globe-Democrat of July 14, 1896, could hardly contain its glee. "The trial promises to develop (into) a very pretty and interesting legal fight," it drooled (13).
Shelton's trial was shaping up as a proxy fight between two of the city's leading politicians
It's this same Globe-Democrat piece, incidentally, which seems to have introduced the idea that Shelton and Lyons were gambling with dice when the fight broke out. "The man who is now on trial for his life was shooting craps with William Lyons," it claims. In fact, there's no mention of gambling in either the earlier newspaper reports or the inquest statements. Either the reporter responsible was genuinely confused, or he could not resist embellishing the story with one extra little colourful detail. Whatever its beginnings, the gambling is now an immovable part of the song. In many versions, it's Billy's alleged cheating at craps that prompts Stag to shoot him.
Shelton's trial began on July 15, 1896, and lasted just three days. Dryden accepted that his client had shot Lyons, but argued it was done in self-defence. On July 18, after 22 hours' deliberation, the jury returned with a split verdict. Seven of them voted for second-degree murder, two for manslaughter and three for acquittal. Judge Harvey dismissed them and ordered a retrial. Shelton returned to his old life.
Dryden died after a drinking spree on August 26, 1897, while Shelton was still waiting for a retrial. No records of the second trial survive. We know only that it must have come soon after Dryden's death and that it did not end well for Shelton. On October 7, 1897, he entered Missouri's Jefferson City Penitentiary to begin a 25-year sentence. Now he had a new alias to add to his list: Prisoner 579.


There was a steady flow of Stagger Lee covers in the 30 years following Mississippi John Hurt's recording, including versions by Woody Guthrie, Cab Calloway, Sidney Bechet, Memphis Slim, Fats Domino and Jerry Lee Lewis.
The British skiffle boom of the late 1950s brought a particularly strange take on the song from Chas McDevitt, who rewrote the story to have Stackolee steal the singer's Stetson hat and then flee. Forced to wear "a coon-skin cap instead", McDevitt was now out for revenge. "I won't rest now until I shoot you dead," he warned. "I'm looking for you bad man Stackolee." Just in case that wasn't scary enough, he topped things off with a spot of the group's trademark whistling (14).
McDevitt failed to trouble the charts with that offering, but Stag's debut as a pop star was not far away. His big break came in 1959, when Lloyd Price made the song a number one hit in America and a number seven hit in the UK. Price, a black native of New Orleans, had a considerable musical pedigree. He'd written Lawdy Miss Cawdy in 1952 and scored his own number one R&B hit with the song long before Elvis Presley covered it.
Price racked up three more hits and then, in 1953, found himself drafted for the Korean War. He spent the next three years touring US bases in Korea and Japan entertaining the troops with his own army band. Looking for ideas to spice up the act, he remembered a 1950 version of Stack-A-Lee by a New Orleans singer called Archibald. "There were hundreds of lyrics for the old song but no story," Price later explained. "I put together a little play based on it. I'd have soldiers acting out the story while I sang it."
Price got out of the army in 1956 and resumed his recording career. He got back in the US pop charts almost immediately with 1957's Just Because, and then unleashed his own raucous version of Stagger Lee on the world. It's a runaway train of a record, fuelled by blaring horns and the backing singers' constant roars of encouragement. Drums thump like pistons beneath Price's powerful vocals and the raspingly abrasive sax solos which break in every time he pauses for breath.

"It was Stagger Lee and Billy,
Two men who gambled late,
Stagger Lee threw seven,
Billy swore that he threw eight,

"Stagger Lee told Billy,
'I can't let you go with that,
You have won all of my money,
And my brand new Stetson hat',

[...]

"Stagger Lee shot Billy,
Oh he shot that poor boy so bad,
Till the bullet came through Billy,
And it broke the bar-tender's glass." (15)

Even without the backing vocals constant refrain - "GO STAGGER LEE! GO STAGGER LEE!" - it's pretty clear where this version's sympathies lie. All Hurt's doubts about the killer's code of honour have vanished. In Price's account, Billy refuses to acknowledge Stag's winning throw at dice, and that makes him fair game. There's a moment of token sympathy for Billy - "that poor boy" - but Price soon gets back to cheering Stag on. Go, Stagger Lee! Shoot him again!