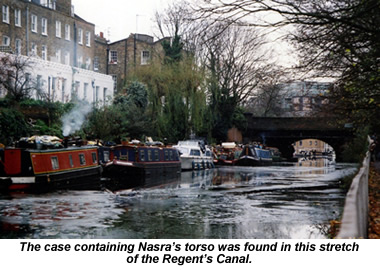 Faced with a dead body in his flat, Archer panicked. He dragged Nasra's corpse into a walk-in cupboard there and fled London. He spent the next two weeks travelling between Nottingham, Leeds and Wakefield. Realising the problem of an unexplained body in the flat was not going to go away, he then returned to London, but found the flat now smelt so bad that his nerve failed him. He left town again, and it was another week before he could make himself return to London and the Conistone Way flat a second time.
"I considered several possibilities," Archer told the court at his trial. "But nothing made sense. One of the things I thought of doing was setting fire to the flat. It was a ridiculous idea, because I could have jeopardised even more people's lives."
Instead, he bought a hacksaw and a pair of rubber gloves. "By now, it was 22 days after the murder," Lovell-Pank explained. "Back in the flat, he began cutting up her body on the living room floor, using the saw and a knife. He cut off first the arms, then the legs then the head. He did not decide quite where or how he was going to dispose of the pieces.
The case did not sink as he'd hoped, but bobbed to the surface and floated slowly eastward
"Because of the smell, he put the torso into the fridge and the head and limbs in the freezer. Then he put the head and limbs in a holdall and took them to the Regent's Canal. Weighing it down with a piece of tarmac, he dropped it into the water at the Caledonian Road bridge." (5)
The Conistone Way flat is about three-quarters of a mile north of this canal bridge, and the most direct route takes you straight down the busy Caledonian Road. The next bridge upstream from Caledonian Road's is the one carrying York Way across the canal, and that's just a short walk along the canal towpath.
"He then went back to get the torso, which he put into a suitcase, and take that to the canal" Lovell-Pank continued. "On the way, he found the suitcase was too heavy, so he caught a bus to take him. When he arrived, he saw children playing, so rather than be seen, he lugged the case along to York Bridge and then threw it into the canal."
Unfortunately for Archer, the case did not sink, as he'd hoped it would, but bobbed immediately to the surface and floated slowly eastward in full view. Alarmed he'd be caught, Archer caught a coach to Dorset, where he stayed at his estranged wife's place in the Poole suburb of Hamworthy. The case floated on for a mile downstream, passing right through Islington Tunnel to the spot where the teenagers saw it and fished it out.
Even in the canal's slow-moving water, it can't have taken more than a few hours for the case to travel that distance, which suggests Archer must have thrown it in on Friday, April 9. It was discovered the following afternoon, and the canal towpath there was still cordoned off when Eric and I passed by on the Sunday evening.
Things moved very rapidly from that point onwards. Police examining the suitcase found Archer's brother had left a note of his name and Conistone Way address inside, which Archer himself had failed to remove. This led them directly to the flat where Nasra had been murdered, and to plenty of evidence that Daniel Archer was her killer.
On Tuesday, April 13, as I was reading that Evening Standard story, police were already searching the flat, where they found a selection of Archer's blood-thirsty poetry and what seemed to be a thinly-disguised autobiography. "When police searched his brother's flat, they found a wealth of forensic evidence, as well as a notebook in Archer's handwriting in which he referred to himself as David Arker," the BBC News site reported.
"At his trial, he claimed the notes were part of a book, and said it was the Arker character who said things such as 'I am a barbarian / I rape and pillage and burn'. Later in the book, he wrote: 'As a child, I was abused by a homosexual pervert masquerading as a babysitter. In reality, I died on September 30, 1950, in a pool of blood." That date, the report added, was the real Archer's date of birth.
The Gazette gave a fuller account of the Archer poetry police found that day, quoting the full verse as: "I was born an Aquarian / But thrive as a barbarian / I pillage burn and rape / Corruption is a thrill / Always dressed to kill / From me there is no escape." A second composition ran: "I love to see them squirm / I will smash the week / Laugh as they freak / I just love to see them burn."
Details of the forensic evidence found that day were not mentioned in any of the press reports I saw. They did emerge a few years later, though, when the Met's Forensic Services Directorate's Crime Scene Manager Alan Tribe wrote an article for the October 2007 issue of his trade magazine.
"Archer admitted he had dismembered the body, but denied murder," Tribe wrote. "The victim had died, he said, when her airway became accidentally blocked during a struggle. Could forensic science be used to challenge this story? In Archer's flat, a length of industrial tape was found. Finger marks in the victim's blood were identified as Archer's, and traces of saliva contained DNA material matching the victim, establishing that Archer had placed the tape over her mouth [and] contradicting his account of an accident." (6)
At 10:00am on Wednesday April 14, detectives from the Specialist Crime Directive arrested Archer at his wife's Poole home after what the Standard called "a tip-off". Before that day was out, divers from the Met's Marine Support Unit had recovered the holdall containing Nasra's head and limbs, and a second post-mortem at St Pancras had confirmed she'd died of "unnatural causes". The remains were formally identified as Nasra Ismail's at an inquest on Thursday April 15, and Archer was charged with her murder next day.
I kept an eye out for any more stories about the case over the following week, but only the Standard and the Islington Gazette seemed remotely interested in covering it. The Gazette headed its April 15 story "Chopped up body found in canal by kids," but early deadlines meant there was no mention of the arrest that had followed. The only new detail they did add was that Nasra's remains were the third set found in this canal in the past four years. In February 2000, it had been the dismembered corpse of another prostitute called Paula Fields and, three years later, parts from Anthony Hardy's three victims. Paula's head had still not been found.
The 39 rough sleepers living at Dennis Handfield House, Nasra's old hostel, were said to be "very distraught" at hearing of her death. Just as touching were the reactions I saw that week on a message board called Somalia Online, where Nasra's countrymen and women reacted to news of her death with many messages of sympathy. "This is a truly horrific revelation," Jamal-11 said. "May Allah guard us all." (7)