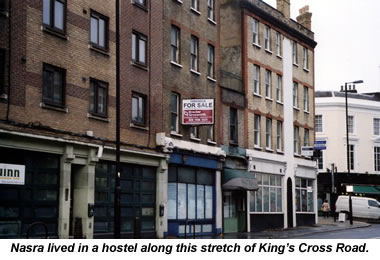 In January 2006, London's Police Commissioner Sir Ian Blair was in the news for pointing out that the media always gave far more space to white murder victims than black ones. He cited the 2002 Soham murders as evidence of this, where an attractive photo of the two ten-year-old victims in their Manchester United replica shirts had ensured wall-to-wall coverage for months. That brought Nasra's case to the front of my mind again, so I wrote a letter to the Daily Telegraph which it published next day. I sketched out the basics of Nasra's death and then said:

"National newspapers and broadcasters did not seem to think it worth covering. Editors had clearly concluded that few readers would identify with a poor black prostitute. Better to devote space to a respectable middle-class victim - black or white - in the hopes of prompting readers to think 'That could have been me'.
"On strictly commercial criteria, that's rational enough. But it inevitably sends the message that some lives are worth more than others.
"Even if Ismail had been white, I doubt she would have received much more attention. The fact that she was a prostitute, an immigrant and struggling at the bottom of society was already enough to ensure that her sad death would be ignored." (9)

I went out for a drink with a songwriter friend a few weeks after that, mentioned that I'd been trying to write some Nasra Ismail lyrics, and he encouraged me to complete them. This time something clicked and, following my Steve Tilston template again, I rapidly completed 21 four-line stanzas telling the whole story from beginning to end. I called it The Ballad of Nasra Ismail, and a selection of its better verses might look like this:

The Ballad of Nasra Ismail

She was born in Somalia, but died in King's Cross
A refugee woman who somehow got lost,
In forced sex and bad drugs, in violence and fear,
She thought she'd escaped, but they followed her here.

She lived in a hostel, she worked on the streets,
To sell herself cheap to the men that she meets,
A score's what she's after, a score's all she's paid,
She'll smoke up his rocks and he'll get himself laid.

(CHORUS)
Her name was Nasra Ismail, once she had a life,
As two children's mother, a loving man's wife,
Too soon that life ended, in much needless pain,
When she met Daniel Archer that night in the rain.

At last he had killed, as he'd known that he would,
But suddenly nothing about it seemed good,
The flat had a wardrobe, the big walk-in kind,
He dragged Nasra in there and left her behind.

For three weeks that followed, he roamed round the North,
Between Leeds and Wakefield he'd hitch back and forth,
He slept rough and tried to forget what he'd done,
But corpses will follow wherever you run.

[CHORUS]

He bought rubber gloves, and a sharp hacksaw blade,
Returned to the flat where he'd slaughtered the maid,
He cut up her body, put parts in the fridge,
Decided to use Caledonian Bridge.

Packed under the stairs, Nasra took her last ride,
A name and address shared the space there inside,
Dan's brother was careful, he'd labeled his case,
And Archer had left all those details in place.

[CHORUS]

He looked like a grand-dad, he spoke soft and low,
But five decades plus left him nowhere to go,
He got 30 years, so he'll die in his cell,
But it's not Archer's story that I'm here to tell.

A killer's name lingers, his victims' do not,
But I say that Nasra should not be forgot,
Remember her name as a gesture of pride,
Small measure of dignity this life denied.

[CHORUS AND CLOSE]

I can see now that this first version of the lyrics was rather too keen to plod its way through every last detail of the real events, and is probably best viewed as a smorgasbord of possible verses for every singer to use or discard as he chooses. Without these original 21 verses, though, I'd never have been able to write the second, far better, lyrics that followed. Anyone who wants to see the first ballad in its full form can find a PDF version here.
There's no denying I was very proud of the ballad's first incarnation at the time. The trouble was that, lacking any musical ability of my own, I could get it only so far as the printed page. What it really needed was a musician prepared to set my words to music and perform them as a fully-formed song.
With this in mind, I typed up a brief account of the story so far, tacked my full ballad lyrics on underneath and posted the result on a couple of folk music message boards. I knew that Steve Tilston had already recorded Les Barker's 2003 parody of Slip Jigs (which Barker called Dipsticks and Seals) so I decided to chance my arm and sent my lyrics to Tilston's website too. I added a little note explaining what I'd been up to and hoping he'd forgive my cheek.
What I needed was a singer prepared to set my words to his own music and then perform them
The folk music boards produced a fair bit of feedback, positive and negative, which you'll find reproduced elsewhere in this article. One criticism was that my lyrics - if ever recorded - might cause still more pain to Nasra's former partner and her two children, who the newspapers had said were now living in the North of England.
"I think it's fairly unlikely that any of Nasra's friends or family would ever hear the song," I replied to one such concern. "Although I'd hate to cause them any further distress if they did. I hope, however, that they'd also see it as an honest (if unsentimental) attempt to tell her story and somehow grant her memory a little more due than it's received so far. For all its gory details, I think it's ultimately sympathetic towards her."
Where people did feel my lyrics were tasteless or exploitative, they were often prepared to soften that verdict when they understood the murder ballads tradition a little more fully. That's one reason I've deliberately held off on presenting Nasra's ballad here until the site had enough older songs in place to give it the proper context. The fact is that I did choose to continue pursuing the project, and you'll have to make up your own mind whether you feel that's morally justified or not.