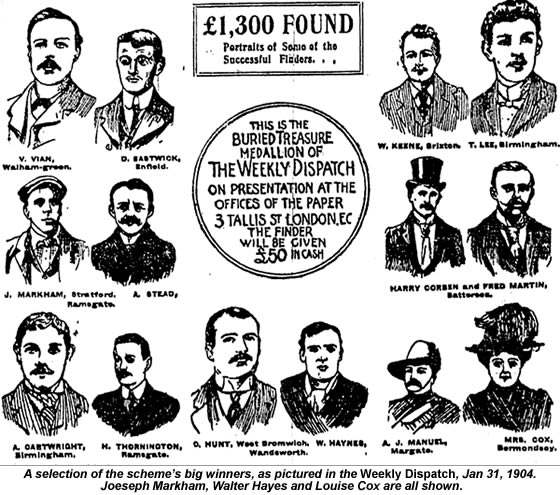 Meanwhile, lawyers representing borough councils up and down the land were still looking for that elusive offender who would explicitly link the Dispatch to his own crime. The breakthrough came on February 1, when a Preston solicitor named WH Wilson won a summons joining The Newspaper Syndicate Ltd (TNSL) to an upcoming case. Four men were about to be tried for wilfully damaging the highway in Stretford and Prestwich, and Wilson's move meant the Dispatch's owners would be right there in the dock beside them. All through this affair, people had been wondering how to hold the paper accountable. Now, at last, it looked like someone had found a way.


It was Henry Caro, a postman, who turned out to be Wilson's key witness. He and three other men had been arrested for damaging the highway in Stretford and Prestwich towards the end of January. TNSL was accused of aiding and abetting their crimes and encouraging those crimes to be committed in the first place.
The case was heard at Manchester Police Courts on February 4. PC Lowther testified that he had been on plain clothes duty in Hodge Lane, Prestwich, at 2:00pm on January 24 when he saw Caro "cutting up the surface of the roadway with a large tin opener". Caro was quickly found guilty, and ordered to pay fines, costs and damages totalling six shillings and six pence. Fines of 40 shillings were quite routine by then, so Caro must have realised he had got off lightly. Wilson then questioned him about TNSL's role in the offence.
Caro confirmed that he would never have damaged the roadway if he had not read about the treasure hunt medallions in the Dispatch. He pointed out that the paper often referred to the medallions as being "buried" and that the particular clue he had been following specified that its man had "scooped out a hole in the ground" with his trowel before hiding the disc. Mr Yates, the presiding magistrate, ruled that the Dispatch's clues had influenced Caro and the other treasure hunters, and said it should be held responsible for the consequences of printing those clues. It was reasonable to assume that saying a treasure had been buried with a trowel - as the Dispatch had done - might well lead someone to try and dig it up. Therefore, the paper's owners had encouraged Caro's crime and must pay the price.
Yates ordered TNSL to pay a fine of £5 - worth £450 today - plus damages and 10 guineas in costs. The company had already lost an earlier objection, claiming that a corporation could not be properly tried under the law Yates had applied, but promised to renew that argument on appeal.
The Dispatch's clues influenced Caro and it should be responsible for the consequences
While the lawyers waited for an appeal date to be set, treasure hunters continued to dig up half the UK and the courts continued to slap big fines on those arrested for doing so. By February 5, news of the scheme had reached Australia, where the Sydney Morning Herald reported: "Many people have been prosecuted and fined for having damaged the roadway in making search. And the newspaper has been fined for aiding and abetting the searchers in causing damage" (18). Nothing daunted, the Dispatch carried a fresh set of clues in its February 7 issue, directing readers to medallions hidden in Bristol, Nottingham and Brighton.
And then, on February 14, everything changed. Suddenly, the Dispatch was missing its regular front page banner flagging up the treasure hunt scheme. The usual two broadsheet pages of clues and promotional copy inside had vanished too. Instead, readers found a page nine news story headlined: "The Great Treasure Hunt: End Has Come to the 'WD's' Great Money-finding Scheme". The story beneath began with five paragraphs of self-justification, reminding readers again of the paper's regular disclaimers that the medallions did not require tools to dig them up and stressing how very responsible and deserving it felt the majority of treasure hunters had been. Then it got to the meat.
"The interest taken in the treasure hunt has far surpassed the most optimistic expectations," the paper reported. "Our offices were besieged by crowds waiting to obtain early copies, and in the provinces hundreds of people waited at the railway stations in order to secure a copy of the Dispatch the moment the newspaper train arrived. In our printing works, extra machines had to be kept running for long hours to produce the enormous issues demanded by the public and we have again and again found it necessary to reprint the various editions. The result has been to raise the circulation of the Dispatch to nearly a million copies weekly.
"It is not by the wish of the proprietors that the treasure hunt has now reached its close. This has been entirely due to the fact that in certain quarters enthusiastic seekers for medallions have not followed or heeded our repeated and urgent warnings against causing annoyance or doing damage. As a natural result of this complaints have reached us and serious representations have been made to us by the authorities. Such representations we could only treat with the consideration and respect that they deserved, and we accordingly decided to bring the matter to a close on Friday last" (19).
The Dispatch added that 134 of its 177 medallions had been found by the time the scheme closed, and that these had been redeemed for a total of £2,935. That left 43 medallions, worth £855 in all, unaccounted for. These, it added, were now worthless, and should be regarded only as interesting curiosities.
A week later, it emerged that the Dispatch's change of heart had been prompted by an injunction against TNSL from London County Council's parks committee. This injunction was backed by the Attorney General, and had produced an undertaking from TNSL that the scheme would be dropped immediately.
That left only the matter of TNSL's appeal against Manchester Police Court's fine, which ended more happily for the publishers. Their lawyers argued before the King's Bench Division that, as the fine had been made under section 52 of the Malicious Damage Act 1861, it should not be allowed to stand. Section 52 allowed for magistrates to impose, at their discretion, either a fine or imprisonment, they pointed out. But TNSL was a corporation, and corporations could not be jailed. Therefore, no such discretion was possible, section 52 could not apply and the fine should be dropped. Mr Justice Wills reluctantly agreed, but added that he was "far from expressing any sympathy with the object of the motion" (20).
And that was that. The Greatest Treasure Hunt On Record had begun with an announcement in the Dispatch's January 3, 1904, edition, and ended with the publishers' enforced decision to pull the plug on February 12. The six weeks intervening created a trail of damage throughout London, wasted an enormous amount of police and court time and sent thousands of people off on the most ludicrous adventures. Very many people were inconvenienced, some had their gardens ruined and a few got thumped through no fault of their own. On the other hand, the scheme also made 134 dreams come true and provided a great deal of innocent amusement for anyone following its twists and turns in the press. It would take a very dull soul to wish it had all never happened.

A shorter version of this article appeared in the Islington Archaeology & History Society Newsletter in 2006.

In November 2013, four-and-a-half years after I first posted this article online, I heard from a Plymouth metal detector enthusisast who'd just unearthed a genuine Weekly Dispatch medallion. For details (and photographs of the medallion itself) visit PlanetSlade's December 2013 letters page here.

In June 2017, Islington Museum helped me reconstruct the full journey described by a 1904 Weekly Dispatch clue. To read the results of our deductions, visit PlanetSlade's July 2017 letters page here.

Sources
1) The Times, January 15, 1904.
2) The Times, January 19, 1904.
3) Manchester Evening News, January 18, 1904.
4) Encyclopedia of the British Press 1422-1992, ed Dennis Griffiths (St Martins Press, 1992)
5) World Press Encyclopedia, ed George Kurian (Mansell, 1982)
6) Tit-Bits, January 9, 1904.
7) Read All About It: 100 Sensational Years of the Daily Mirror, by Bill Hagerty (First Stone, 2003).
8) Weekly Dispatch, January 17, 1904.
9) Manchester Evening News, January 16, 1904.
10) Weekly Dispatch, January 24, 1904.
11) Islington Gazette, January 26, 1904.
12) The Times, January 20, 1904.
13) The Times, January 27, 1904.
14) Islington Gazette, January 28, 1904.
15) Weekly Dispatch, February 7, 1904.
16) Manchester Evening News, January 29, 1904.
17) Tit-Bits, January 30, 1904
18) Sydney Morning Herald, February 5, 1904.
19) Weekly Dispatch, February 14, 1904.
20) The Times, February 27, 1904.