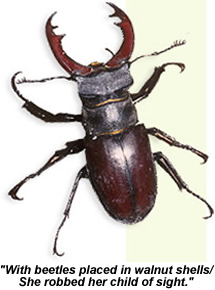 September brought some interesting new information about Mary Arnold the Female Monster. This, you'll recall, is the Victorian gallows ballad about a woman who's supposed to have used two hungry beetles to deliberately blind her own baby - a tactic she hoped would produce more cash when she used it as a prop for begging.
The only information we've had on this tale so far has come from the two Mary Arnold ballad sheets I've already written about. Now Lee Jackson's excellent Victoriana blog The Cat's Meat Shop has found a Times clipping telling what seems to be the same story. Reproducing a June 17, 1843, story from the Reading Mercury, The Times of June 30 that year says:

"A Monster. –A day or two since, a gentleman traveling along the road near Colnbrook, had his attention attracted to the screams of a child in the care of a tramping woman, who had with her, two other children totally blind. The cries of the child were so distressing, that he insisted on knowing the cause; but; not getting a satisfactory answer, he forcibly removed a bandage from its eyes, when, horrid to relate, he found these encased with two small perforated shells, in which were two live black beetles, for the purpose of destroying the sight. The woman was instantly seized, and given into custody; and, at the magistrate's meeting, at Eton, on Wednesday last, committed for trial. There is too much reason to fear that the wretch produced the blindness of the other two children, by similar means."

Jackson's also found a fictional version of the story, this one published in an 1846 edition of The Mysteries of London. This was a very cheap, very sensational, very popular weekly magazine aimed at the same working class audience which was buying the gallows ballads. It was edited, and often written too, by the roguish George Reynolds.
Here, Reynolds is describing the conversation between two ne'er do wells in a West Smithfield slum:

"'There's nothin' like a blind child to excite compassion,' added the woman coolly. 'I know it for a fact,' she continued, after a pause, seeing that her husband did not answer her. 'There's old Kate Betts, who got all her money by traveling about the country with two blind girls; and she made 'em blind herself too - she's often told me how she did it; and that has put the idea into my head.'
"'And how did she do it?' asked the man, lighting his pipe, but not glancing towards his wife; for although her words had made a deep impression upon him, he was yet struggling with the remnant of a parental feeling, which remained in his heart in spite of himself.
"'She covered the eyes over with cockle shells, the eye-lids, recollect, being wide open; and in each shell there was a large black beetle. A bandage tied tight round the head, kept the shells in their place; and the shells kept the eyelids open. In a few days the eyes got quite blind, and the pupils had a dull white appearance'."

Jackson rightly cautions that The Times' failure to name any of the parties involved is suspicious, as is the fact that Mary's story seems to appear nowhere else. It's entirely possible that The Times and the Reading Mercury before it were simply repeating an urban myth they found too juicy too resist.
"In the case of something this surprising, I would expect to see a report of the trial, although one can never be 100% sure when trying to prove a negative," Jackson says. "What is definitely suspicious is the lack of names in the newspaper clipping; neither the man involved nor the culprit."
On the other hand, Mary's ballad sheets contain a lot of biographical details about her which don't appear in either of the two versions Jackson's uncovered. These include her date of birth (October 10, 1809), her family background, and details of her escapades from age 14 onwards. The ballad writers certainly weren't above making up a story from scratch and then claiming it was true, but I can't think of another example where they've bothered to go into this kind of detail without a genuine court transcript to work from.
The other possibility is that there's another fictional version of this tale which we've not yet seen, but which provided the ballad's writers with all their additional details. The fact that the two Mary Arnold sheets I've already posted here are so consistent with one another suggests they shared a common source of some kind.
At the very least, Jackson has let us date on this elusive ballad to 1843, and identified the Eton magistrates' court where Mary's legal process seems to have begun. Armed with this information, I contacted the good people at Reading Borough Libraries to ask if they could find any trace of Jasper Ewell, described in one of Mary's broadsheets as "a large land holder's son who lived near and was continually haunting after Mary". The implication is that it's Wicked Sir Jasper who left Mary with child, and if anyone's name had survived in the records, you'd think it would that of a large land-owning family like his.
Sadly, RBL's Katie Amos could find no trace of him. "I've had a look on both the 1841 and 1851 censuses and there is no sign of a Jasper Ewell (or Youell or any other variation the computer could come up with)," she writes. "Nor do there seem to be any of that surname in Berkshire. The strongest concentrations of the name seem to be in the Kent, Norfolk and surrounding counties, with a few 'up North', and of course in the London area."
I shall see what else I can discover. And while I'm doing that, take a look at Jackson's site for yourself. You can find his discussion of The Times' story here and The London Mysteries extract here.
*****
August 24, 2010. Jim Livingston of Braintree, Massachusetts, writes:
"Please forgive me if you consider this a commercial mailing, but I thought you might enjoy listening to Who Put the Arsenic in Mrs. Bliss's Chowder? which consists of new lyrics to the 1890s novelty tune Who Put the Overalls in Mrs. Murphy's Chowder? The song does promote a book, but I think you can enjoy the song even if you don't buy the book. Just click on www.youtube.com/watch?v=eiFcVJl-kzo
"My own version of the song was based on a real-life event, the poisoning of Evelina Bliss with arsenic-laced clam chowder in NYC in 1895, and the 1896 murder trial of her daughter (my cousin Mary Alice Livingston) for the crime. I heartily recommend the book that inspired the song, Arsenic and Clam Chowder: Murder in Gilded Age New York (Author: J. Livingston). Description below:

"'Arsenic and Clam Chowder recounts the sensational 1896 murder trial of Mary Alice Livingston, a member of one of the most prestigious families in New York, who was accused of murdering her own mother, Evelina Bliss. The bizarre instrument of death, an arsenic-laced pail of clam chowder, had been delivered to the victim by her ten-year-old granddaughter, and Livingston was arrested in her mourning clothes immediately after attending her mother's funeral. In addition to being the mother of four out-of-wedlock children, the last born in prison while she was awaiting trial, Livingston faced the possibility of being the first woman to be executed in New York's new-fangled electric chair, and all these lurid details made her arrest and trial the central focus of an all-out circulation war then underway between Joseph Pulitzer's World and William Randolph Hearst's Journal.'

"PS. One US murder ballad I used to enjoy singing is Monongahela Sal, but as far as I know, that did not relate a real-life murder. Just another 'he did me wrong' song."

Paul Slade replies: Thanks for that. I didn't know the Overalls original, but oddly enough there's a thread about it on the Mudcat forum at the moment, which you'll find here.
The only version of this song I did know is Harry 'The Hipster' Gibson's Who Put the Benzedrine in Mrs Murphy's Ovaltine? which was recorded (and instantly banned from radio play) in 1947.
I don't know Monongahela Sal either, but if you can point me to a recording of it, I'll certainly give it a listen. I limit myself to songs that tell real-life stories on the site, because otherwise there's just far too many of the buggers, but I'm always intrigued to hear fictional examples too.

August 31, 2010. Jim Livingston of Braintree, Massachusetts, writes:
"Thanks for calling my attention to the Mudcat forum. Someone there noted the 1901 recording of Overalls, and you can hear this played on an old Edison phonograph of that period on: www.youtube.com/watch?v=qzkMdIwL-hM
"I first heard Monongahela Sal on a Pete Seeger LP many years ago. I haven't found his version on the web, but there's a group doing it on YouTube at www.youtube.com/watch?v=plpJVmoD-JQ. A Google search also turned up the lyrics elsewhere, plus a discussion of its origin. Although it was not precisely based on one real-life event, it was based on a discussion of several real-life stories told by a group of riverboat captains."

Paul Slade replies: "Apologies for the late reply, but I've just got back from a few weeks away. Oddly enough, I saw a live version of Overalls performed during my trip.
I went to see Frank McCourt's play The Irish and How They Got That Way at the Irish Rep in New York, and they gave us a few lines from the song in Act II. Two of the actors squared up their fists at the lip of the stage and belted it out in a very pugnacious way.
I must admit I'd never heard of the Livingston murder case before, but it's evidently the inspiration for all the songs that have followed. The murder itself in 1896 gets parodied as Overalls (first published in the 1890s and first recorded in 1901). That song produces a parody of its own (Benzedrine) in 1947 - perhaps inspired by some 50th anniversary coverage in the press - and then your own Arsenic version in 2010.
This completes a delightfully neat little circle, bringing the song right back to its origins and to the bosom of the family that spawned it. It's just the sort of song trail I love.

October 2, 2010: Jim Livingston of Braintree, Massachusetts, writes:
"I appreciate learning that they refer to the original Overalls song in the McCourt play, and I'll try to find out more about that. I read on the web somewhere that Mick Moloney sang the Overalls song at McCourt's memorial service. He knew McCourt and his wife, and knew that Overalls was one of her favorite songs."
*****
September 19, 2010, Irene Smith of Cyberspace writes:
"I read very quickly through your Lobby Lud articles and could not see when he went to the Isle of Man.
"I still have a faded cutting of the time my mother caught Lobby Lud in Douglas. She was always so proud of it and told me he took her and her sister to drink champagne. The money she won paid for an additional week at the Isle of Man.
"She was a super sleuth, who he called 'indefatigable Lillian'."

Paul Slade replies: I've just had a look through my Lobby Lud files and I can't find any reference to him visiting the Isle of Man in his initial 1927 campaign - although Douglas council did get in an early request to have him call there.
That first year of the scheme - launched by the Westminster Gazette - was all I really set out to cover, but I do mention Lobby's later career in passing on page 12 of my piece:
"As it turned out, all Lobby's efforts were not enough to save the Gazette, which was taken over by the Daily News in January 1928. The Daily News itself was merged into the News Chronicle two years later. Lobby migrated to each paper's summer campaign in turn, but with steadily diminishing results. Chinn continued to play Lobby until the 1930 campaign was complete, and then handed the role over to another reporter. By the time this replacement reached his 1933 News Chronicle tour, the prize on offer had shrunk to just £10, and the biggest fuss he could report was a few bungled challenges."
The clipping you sent me is from the News Chronicle, which means it must date from Lobby's career in 1930 or later. For what it's worth, the copy reads very much like that of Willy Chinn (the original Lobby), so my guess is it dates from 1930 itself, which was Chinn's final tour in the role.
*****
Of Carmine, William, Eric and Harry


The main point of the US trip I mentioned to Jim above was to do some first hand murder ballads research in North Carolina, Ohio, Kentucky and Indiana. I don't want to get into that until I come to write up the individual songs involved, but the trip also touched on some other topics we've discussed here on PlanetSlade, and I can talk about those now. Here's a few extracts from the journal I kept while traveling round.

Monday, August 30, 2010: Arrive in New York on PlanetSlade's first field trip, get settled in at my hotel, then nip out round the corner to Jim Hanley's Universe, the city's finest comics shop, to find a copy of The Flash Companion by Keith Dallas (TwoMorrows Publishing, 2008). This is the book Steven Jamrozik mentioned in his recent letter about my Superheroes in Court piece, but which I'd been unable to find in London.
Steven flagged up the old Carmine Infantino interviews Dallas reproduces in his book, and the thought had been nagging me ever since that these interviews might contain something that made my own account of Infantino's DC lawsuit look foolish or incomplete. I knew I wouldn't be able to put that idea out of my head until I'd seen the book for myself, which is why I was so pleased to find that copy at Hanley's
Thankfully, there's nothing in the Dallas book that contradicts anything I wrote on Infantino's case, and quite a bit there that gives it added support. The most striking aspect of the old interviews - to me at least - is the two markedly different accounts of the Silver Age Flash's creation which Infantino offers - one from before two of the other key players' deaths and one afterwards.
In an extract from his 2001 book, The Amazing World of Carmine Infantino, the artist takes credit for the character's genesis only as part of a three-man team with DC editor Julius Schwartz and writer Bob Kanigher. "The creation of the new character was a joint creation between Julie, Bob and myself," he says.
Both Kanigher and Schwartz died shortly after that book was published: Kanigher in May 2002 and Schwartz in February 2004. Infantino filed his complaint against DC in June 2004, arguing now that The Flash had been entirely derived from his old character Captain Whiz.
"I brought in Captain Whiz, and that became the character that you see today as The Flash," he tells Dallas in a 2007 interview. If upheld in court, that account could have put The Flash outside DC's normal work-for-hire rules, and thus strengthen Infantino's claim to a financial stake in the character.
Infantino withdrew his lawsuit on undisclosed terms just three months after launching it. Asked by Dallas why he'd never mentioned Captain Whiz before, he replies: "It's because of my lawsuit against DC. That's the only reason why I began talking about Captain Whiz. If DC were nice at that point when I started to sue them, then I wouldn't have mentioned it".

Saturday, September 4, 2010: I've written about the excellent William Castle's innovative methods of promoting his films before, but never had the chance to experience them for myself.
This seemed a shame, because I knew from John Water's writings about Castle that his gimmicks included Emergo, a glowing rubber skeleton which shot out on a wire above the audience seats during The House on Haunted Hill and Percepto, an electronic buzzer which sounded beneath selected auditorium seats as The Tingler's monster slug electrocuted a matching movie audience on-screen.
New York's Film Forum on Houston Street had a William Castle festival on while I was in town, so I stopped by there on Saturday afternoon to see The Tingler for myself. The cinema had made every effort to replicate Castle's gimmicks, mounting a life size skeleton of its own on a ceiling pulley and hoisting it out of the shadows during Vincent Price's pioneering acid trip.
Castle's colour effects were all present and correct too, including the swirling coloured gels of the acid trip itself and sudden stabs of colour for a blood-filled bathtub and sink in what is otherwise an entirely black-and-white movie. The Tingler was released in 1959, a full ten years before Easy Rider's similar acid effects, but somehow Castle never seems to get any credit for inventing this technique. In the bathroom scene, he ensured that everything but the blood remained in monochrome by painting the whole set in black, white and grey and making his actress wear grey make-up throughout the scene. Genius!
The Tingler's plot contrives to have its villain live above a fleapit movie theatre so that, when the monster itself escapes through a loose floorboard, everyone knows it must have fallen into the auditorium below. The creature itself is a giant rubber slug, extracted as a parasite from one of its dead victims' spines, which kills by inducing extreme fear. The only defence against it is to release your fear by screaming as loud as you can.
When we reached that point in the film, the projector appeared to break down - just as Castle had intended - the room plunged into darkness and Vincent Price's voice boomed out saying: "The Tingler is loose in THIS theatre! Scream! Scream for your lives!"
A loud buzzer sounded from somewhere behind my seat, and members of the box office staff rushed in shouting, waving torches about, grabbing random members of the audience by the neck and shouting "It's here! The Tingler is here!" Ten rows in front of me, I saw a shower of popcorn suddenly fly into the air, though whether that came from a genuinely startled audience member or a cinema staffer I don't know.
There was a bit of kerfuffle as they announced someone had fainted and was being treated by "trained medical personnel", Castle's effect of a silhouetted Tingler crawling across the projector's lens appeared on screen, and then we finally saw Price recapture it so the movie could resume. There had been more laughter than actual screams while all this was going on, but I dare say that was true in 1959 as well, and it detracted nothing from the experience. This was a rare chance to see one of Castle's films exactly as the master had intended, and Film Forum did a great job staging it. Watching it on DVD at home just wouldn't be the same.

Monday, September 27, 2010: After completing my murder ballads research in the States, I had a few days free in California. Eric Pace, the great grandson of Black Swan founder Harry Pace, is a film student there, so we'd arranged to meet for dinner while I was in San Francisco.
As I explain in my piece about Black Swan, Harry was a light-skinned black who, after a lifetime of trying to improve black people's lot in the US, found himself regarded as a race traitor by the more militant blacks who followed him. Harry's crime, in their eyes, was moving his family into a prosperous white suburb, and he responded to the black protestors who followed him there by disappearing into the white community, passing for white everywhere he went and ensuring his children did the same.
It was a sad end to a remarkable life, and it's only in the past five years that Eric and his family have discovered their true background. I knew Eric was working on a film documentary about both Harry's life story and his own family's journey of discovery since, and I was interested to hear how it was going. What I didn't know until we met was that Eric's studies at the University of the Pacific had already netted him a festival award for Baba Yaga, the short film he made there with fellow student Philips Shum, in 2009.
As we sat at the restaurant bar waiting for our table, Eric told me he'd been researching Harry's life for about four years now, and working on his movie for two. So far, this had produced between 30 and 45 minutes of edited footage, including interviews with Minnie Handy-Hanson (WC Handy's grand-daughter) and Elliot Hurwitt, two of the Pace experts my producer and I had interviewed for that Radio 4 Dirty Blues programme.
Minnie had let Eric film her interview in Handy Brothers' old New York offices, he told me, a chaotic space just off Times Square crammed with the memorabilia of the past 90 years. Harry Pace and WC Handy had fallen out when Pace broke up their partnership to form his own Black Swan venture back in 1921, and Minnie rather sweetly told Eric she saw this interview as an opportunity for the two clans to reconcile.
Eric had also obtained some extracts from Bessie Smith's 1929 film St Louis Blues, now in the public domain, which reconstructed her famous encounter with Harry, and buy the footage of a vintage interview with John Johnson, the highly-successful publisher of Jet and Ebony magazines, who had always considered Harry his mentor, and was happy to say so on camera. He hoped to give the film a personal edge by incorporating his own family's story in it too, and had shot some interview footage of himself and his Dad discussing it all to bring this home. You can get a taste of the material Eric's gathered so far by viewing his teaser YouTube trailer here.
As a film student, Eric was able to borrow cameras and editing equipment free of charge, and draw on the services of a cameraman friend he knew from the course. It all sounded very promising, and Eric had found some additional evidence that the Bessie Smith spitting story is true too. He's promised to keep us in touch with his Harry Pace film as it progresses, so watch this space.
*****
Message board round-up

The source comments for my latest collection of delightfully flattering blurbs ("Reader reaction renders repeated radiant respect") can be found at the links below.

24th State
http://www.24thstate.com/2010/08/page/6/

Authonomy
http://www.authonomy.com/books/14848/murder-ballads/

Comics Journal
http://archives.tcj.com/messboard/viewtopic.php?t=7803&highlight=

Infocult
http://infocult.typepad.com/infocult/2010/08/hidden-not-lost-victorian-hoax-storytelling.html#comments

Metafilter
http://projects.metafilter.com/2724/Johnny-Winter-v-Jonah-Hex
http://ask.metafilter.com/158248/Do-people-still-get-paid-for-research-and-if-so-how

The Never-ending Pool
http://www.theneverendingpool.com/component/option,com_fireboard/Itemid,22/func,view/id,76063/catid,6/

The Profaner
http://theprofaner.blogspot.com/

Pervasive Games
http://pervasivegames.wordpress.com/

Spooky Librarians
http://folderol.spookylibrarians.com/2010_08_01_archive.html

Steve Earle
http://www.steveearle.com/forum/viewtopic.php?f=10&t=5349

Who Is Your Lawyer?
http://www.whoisyourlawyer.com/