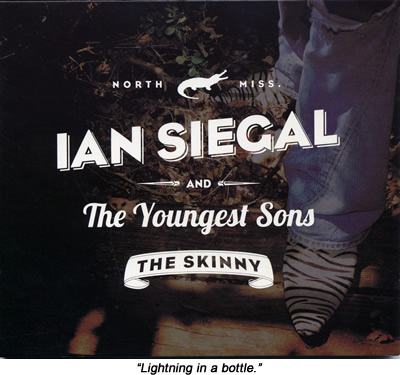 Ian Siegal & The Youngest Sons: The Skinny.
British bluesman Ian Siegal decamped to Coldwater, Mississippi, last year to record this album with the baby boys fathered by RL Burnside, Junior Kimbrough, Jim Dickinson and Bobby Bland.
Bassist Garry Burnside and drummer/producer Cody Dickinson both have a history with the hill country's North Mississippi Allstars, and bring much of that band's trademark muddy sound with them. Rodd Bland plays drums on the six tracks Dickinson doesn't handle himself, and Robert Kimbrough contributes both lead and rhythm guitar.
Siegal settles into the band's embrace for much of the album, calling aloud for Kimbrough to take the solo on several tracks, and including two of Burnside's songs alongside his own seven compositions. It's very much a band project, rather than a star fronting his hired hands, and Siegal's rewarded with a sense of palpable respect from the young princes.
The downside of this approach is that the album sometimes sounds more like an NMA record than one of his own. There's a nimble little wah-wah pattern from Siegal to enjoy on Stud Spider, and a pleasant breathy growl to his vocals throughout, but no denying that the first six tracks' mid-tempo rockers are more or less interchangeable. This isn't helped by Siegal's workmanlike lyrics, which lean rather too heavily on the old blues cliches of desire, death and damnation.
Relief comes with track seven's Better Than Myself, when Siegal finally takes the spotlight. The clean, sharp tones of his acoustic slide guitar cut through the album's prevailing murk like cool rain after a long day's suffocating heat. Siegel's slide playing is the highlight of this whole project, and it never shines brighter than it does here. Better has easily the album's most memorable tune too, and the only one which lingered in my head when it was done.
There's more impressive slide work on Garry's Night Out, where Burnside takes over the vocals to let Siegal concentrate on playing an extended showcase. The amount of chatter on the take suggests it was meant only as a rehearsal, but that Siegal's lightning-in-a-bottle performance won it a place on the album anyway.
Sadly, nothing else here quite reaches the heights those two tracks achieve. Confirmed Siegal fans will want to pick it up anyway, but the merely curious might find 2008's The Dust a safer bet.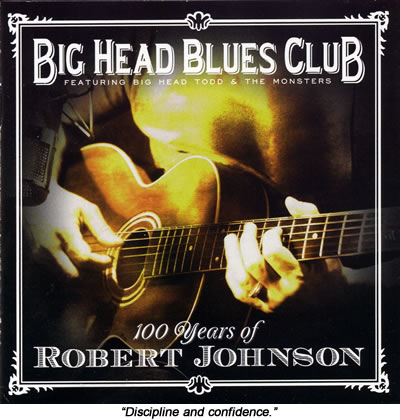 Big Head Blues Club: 100 Years of Robert Johnson.
Robert Johnson was born 100 years ago this May, and Colorado's Big Head Todd & The Monsters are celebrating with an album of his songs. The revised moniker they've adopted reflects the fact that BB King, Hubert Sumlin, Charlie Musselwhite, Honeyboy Edwards, Ruthie Foster, Cedric Burnside and Lightin' Malcolm all dropped by to join in.
The result's a lot better than you'd expect. All too often, albums with a host of superstar chums on board end up as horribly disjointed affairs, and so highly-polished that not a trace of life remains. In this case, though, the core band has a strong enough presence to impose a consistent sound, and many of the guests stick around for more than the usual flying visit. Lightnin' Malcolm, for example, adds guitar to five tracks, while Musselwhite's harmonica is on three. Only King and Sumlin limit themselves to a single track each.
All My Love's In Vain is a solo rendition from Todd Park Mohr, using just voice and acoustic guitar, while Honeyboy has only Musselwhite to help him out on Sweet Home Chicago. Both these tracks are fine, but the minimalist approach inevitably prompts comparisons with Johnson's own recordings, and that's a battle the BHBC boys were never going to win.
The solid, meaty full-band arrangements prove much more rewarding. The Monsters built their following through constant touring, and there's no better apprenticeship for a blues band. Twenty-five years into their career, with one platinum album already in the bank, they've got the skills, discipline and confidence to make this project a genuine tribute to Johnson's songwriting rather than a cheap attempt to exploit his legend.
Among the guests, King and Sumlin turn in characteristic performances, with Sumlin's gravitas underpinning When You Got a Good Friend and King scattering his familiar licks through a funky Crossroads Blues. Musselwhite adds careful, subtle colouring to Come On In My Kitchen and Last Fair Deal Gone Down.
But it's the lesser-known names who shine brightest. Foster has a background in gospel as well as blues, and her verses of Kind Hearted Woman offer the album's strongest vocal performance. Lightnin' Malcolm's guitar work lifts every track it touches, particularly when his regular bandmate Burnside adds drums on Preachin' Blues and If I Had Possession Over Judgement Day.


These reviews first appeared in fRoots 337. For more details, visit the magazine's website here.