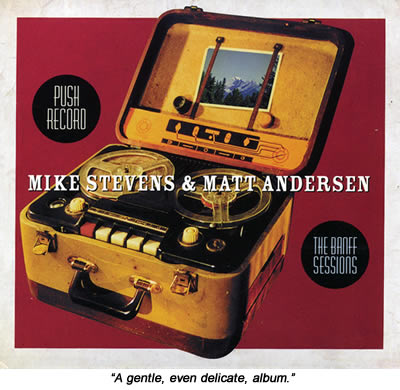 Mike Stevens & Matt Andersen: Push Record.
When blues guitarist Matt Andersen and bluegrass harmonica player Mike Stevens found themselves with a week to kill at an artists' retreat in the Canadian town of Banff, they figured they might as well make an album.
They wrote the 11 songs there and then and recorded them at The Banff Centre's in-house studio, aided by Grammy-winning engineer Thomas Geiger. "This album was written in five days, recorded in one day and mixed the next," the duo explains. "All recording was live off the floor - no headphones, no overdubs, no edits and no processing."
And no other musicians, either. All you'll hear on this album is Andersen's vocals and guitar plus Stevens' harmonica. Far from the gutbucket affair that may suggest, they've produced a gentle, even delicate, album whose prevailing flavour is as much country as blues.
Stevens' bluegrass roots show through in tracks like The Mountain, a tale of hard-scrabble mining life which recalls Steve Earle and Jim Ford songs on the same topic, and Last Letter Home, a dying soldier's farewell epistle to the family he's leaving behind.
The first of these two songs is driven by Stevens' chugging harmonica, which conjures a heavy-loaded coal train powering along the tracks, coupled with Andersen's fast acoustic strum. The second alternates between verses of unaccompanied vocals and a desolate solo harmonica echoing each stanza's phrasing as soon as the vocals drop out. Another highlight is Little Things, where Stevens steps back a little to let Andersen deliver a quiet plea of love from a man who seems to sense his wife's already half-way out the door.
Fortunately, the album does have a jollier side too. She Loves It All is built round a patter song listing all the many, many forms of alcohol the song's subject prefers to the guy who's singing about her. That Girl Is Like A Train takes blues and country's joint obsession with locomotive metaphors to deliberately absurd lengths: "She's got room for a hundred men / She only lets 'em on one at a time".
The album's eponymous closing track is preceded with 90 seconds of silence, separating it just enough to suggest Stevens and Andersen recognise it's no more than a generic blues jam. With or without this touch of filler, though, the 43 preceding minutes are well worth investigating.

This review first appeared in fRoots 348. For more details, visit the magazine's website here.