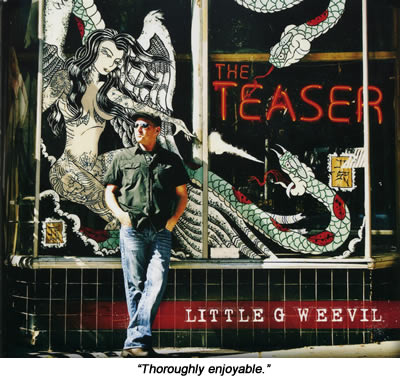 Little G Weevil: The Teaser.
There's a whole stratum of US bar bands which has no equivalent here in the UK. In such a huge country, with a live blues joint to fill in every sizable city and a host of local festivals too, any band worth its salt can rack up a steady 200 gigs a year. Those tough enough to survive the process emerge with a practiced showmanship and proven set-list which few British pub bands can match.
Somewhere at every one of those 200 gigs, you'll find a merchandise table selling CDs much like this one. They're expertly played and thoroughly enjoyable throughout, but stick rather too closely to the circuit's required formula to provide any real surprises. In Little G's case, that means 12 good solid blues songs, veering from John Lee Hooker to BB King in their style, and split eight/four between full band and solo arrangements.
Weevil himself provides guitar and vocals, offering up a solo in just about every number, but keeping these tight enough to avoid pointless pyrotechnics. The whole album's pitched very much towards the blues end of the blues-rock spectrum, with Bob Page and Maurice Nazzaro adding enjoyable texture on piano and harmonica respectively.
Page switches to organ for Big City Life, giving this London-inspired song a touch of soulful funk in keeping with the band's Georgia base. Other highlights among the full-band performances include the opening rocker Real Men Don't Dance, the brooding Highway 78 and Liquor Store's twitchy stop-start harmonica riff. I'm less keen on the slow blues of Apple Picker, the one track where Weevil does drift into a fancy-pants solo, but no doubt it keeps the casual Clapton fans in his audience happy.
Weevil acknowledges John Lee Hooker as one of his heroes, a fact we might have guessed from the solo tracks here. With their remorselessly hypnotic riffs and the metronome-steady tap of Weevil's foot for percussion, these four songs keep us firmly locked into their tales of good love gone bad. Losing Cool's sense of subdued violence and Which Way Shall I Go's bottleneck work stand out.
What we have here, then, is an accomplished, dependable blues album. It's a little short on innovation, perhaps, but get a couple of beers inside me at one of Weevil's gigs, and I'll be first in the queue at that merchandise table.

This review first appeared in fRoots 347. For more details, visit the magazine's website here.