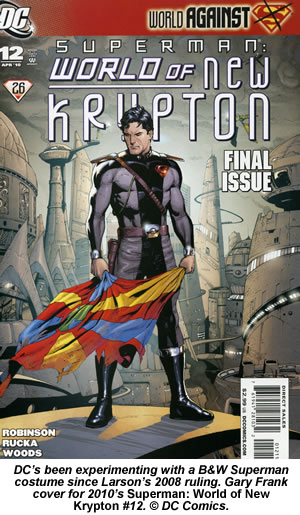 The court's first substantial ruling in the Siegels' current case concerned not Superman but Superboy. In April 2006, Judge Ronald Lew ruled that the Siegels had the right to revoke Superboy's copyright, and said they had been the character's sole owners since November 2004. He also rejected Warner's request that he rule the Superboy copyright dispute irrelevant to the lucrative TV series Smallville. On the contrary, Judge Lew said, facts before the court established that Smallville's lead character was, in fact, Superboy.
The first ramifications of this decision showed through in a DC comic called 52. Karl Kerschel's art for issue 47 of that title, which carried a cover date of March 2007, originally featured a shot of Superboy in one of its crowd scenes. Kerschel was hastily ordered to redraw this character as Wonder Girl just before the comic went to press, presumably because DC was now nervous about Superboy's legal status. (31)
Lew's decision on Superboy was amended following Warner's appeal in July 2007, which convinced the court that Siegel and Shuster had originally shared Superboy's ownership between them, and that Siegel was therefore entitled to reclaim only half the character's total rights. With Shuster's share still assigned to DC, that left Superboy 50% owned by the Siegels and 50% by DC - for the time being, at least. His final ownership will have to resolved after both the Siegel and Shuster Superman cases are fully settled.
This time, DC responded with a double-page spread in a June 2009 Legion of Superheroes comic showing Connor Kent - Superman's clone, not his youthful self - declaring "Call me Superboy!". Connor, who wears a black T-shirt with a red Superman logo, jeans and trainers, was created in 1993 by Karl Kesel and Tom Grummett, under what were presumably watertight work-for-hire arrangements, and he took over Superboy's traditional slot as the lead feature in Adventure Comics in October 2009. Eight months later, DC announced it was launching a new Superboy book, which would have Connor as its star. The company has continued publishing occasional new stories with the original Superboy in them too, but it seems that Connor Kent is the main holder of that title now. (32, 33)
Given DC's earlier caution over the Wonder Girl episode, I asked Jeff Trexler, why it would risk reviving the character now when his final ownership has yet to be settled. "DC might have concluded that the worse they'll end up with is 50% of the character as a joint work," he replied. "Since the main issue is profit allocation, they might have figured it's better to share money from successful characters than to kill them off."

DC may one day wish to minimise any aspect of Superman it doesn't fully own
The ramifications of the case have shown through in other ways too. Warners won a small victory in court when it was able to produce a black and white ad from More Fun Comics #31, published in April 1938, which shows a preview of Action Comics #1's cover. This depicts Superman hoisting a car above his head, as panic-stricken men flee all around him. The ad pre-dates the publication of Action Comics #1 by two months, and was not included in the Siegels' copyright claim. On the other hand, the ad alone gives no indication of Superman's name, origin or mission in life. The only power he's exhibiting is super-strength and even his chest logo is, at best, indistinct. And, because the ad was in black and white, the cover image there is also black and white.
In his March 2008 ruling, Judge Larson accepted that DC still fully owned the elements contained in the More Fun ad, but immediately made it clear just how limited those elements were. "The Court concludes that defendants (DC) may continue to exploit the image of a person with extraordinary strength who wears a black and white leotard and cape," he said. But that was as far as the More Fun ad's copyright went. (34)
DC's been experimenting with the implications of this ruling ever since. Its first move was to join with Mattel in marketing a "Black Suit Superman" action figure for sale at 2008's comics conventions. This toy shows Superman in a skin-tight black leotard in his familiar design, but with the boots, belt, logo and cape all coloured silver. The company followed this up with a year-long series of Superman comics called Superman: World of New Krypton, starting in March 2009, which showed him in a different black and silver-grey leotard with no cape and a tiny "S" logo over his left breast. Finally, in September 2009, Smallville began its ninth series on US television, now showing Tom Welling's Superboy character in a black T-shirt with a silver "S" logo on the chest.
Of course, DC still publishes plenty of comics with Superman in his traditional red-and blue duds too. Even so, it's hard to dismiss the current profusion of black-and-silver costumes as mere coincidence. DC's already preparing for a world where it may wish to minimise any aspect of Superman it doesn't fully own, and who knows which elements of the legend will be affected next?


Winning back the rights to Superman's roots in Action Comics #1 is a historic victory for the Siegels, but it still leaves much to be resolved. For one thing, Superman's trademark is a quite different issue from his copyright, and DC still owns the trademark outright. Toberoff will argue that most of that trademark's value derives from the copyrighted material his clients have already won back, and that they should therefore get a share of the trademark's income too, but he can expect DC to fight that claim every step of the way.