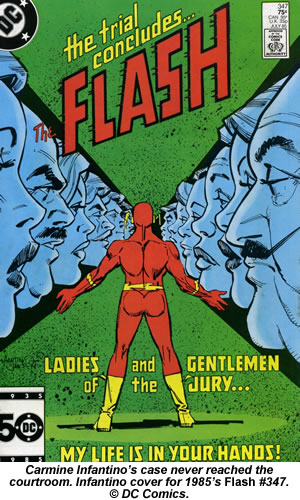 It's interesting here to consider a 1984 case which DC brought against a singing telegram company called Unlimited Monkey Business over its use of a costumed delivery man called Super Stud. DC argued that this costume was too close to Superman's, and that its unauthorised use therefore breached both trademark and copyright law.
In deciding the case, the court listed seven essential components of Superman's costume: a blue skin-tight suit, a yellow five-sided shield on the chest, a red letter "S" emblazoned on that shield, a red cape, red trunks, red boots and a gold belt. Super Stud wore black boots instead of red ones, but all the other key elements were there. This, combined with Super Stud's name and the elements of Superman's story UMB adapted for his script was enough to win DC its case on both copyright and trademark grounds. (35)
Applying that test to Superman's depiction in Action Comics #1 produces a very similar result. The only discrepancy is that Shuster's Superman had a triangular shield on his chest rather than the five-sided one specified in court, but everything else is present. If Super Stud was close enough to Superman for DC to establish a trademark interest, then why isn't DC's Superman close enough to Siegel and Shuster's original for them to do likewise?
There are other questions too. Is the modern "S" logo simply a derivation of Joe Shuster's original? Or is it a new creation in its own right? In Action Comics #1, Superman was not able to fly, only to leap tall buildings. Is flight a new power? Or only an extrapolation of the leaping Jerry Siegel gave him? It'll be up to the law to resolve all these issues, and the case may go all the way to the US Supreme Court before it's done.

Warner Brothers has some tricky decisions to make about Superman's movie career
The end result will probably be the Siegel and Shuster families taking a bigger share of Superman's profits, but DC still being the company that publishes him. DC's the only company able to unite the character's trademark and (most of) his copyright under the same roof, and it's in everyone's financial interest to let DC continue exploiting that. Arguing out the details is going to be a tortuous process, though, and it could be another ten years before everything's resolved.
Until then, Warners has some tricky decisions to make about Superman's movie career. Depending on how you read the current uncertainty, it's either an argument for putting any movie plans on ice until the case is resolved or rushing them into production to guard against charges that you're failing to exploit the property. In evidence for the first view, we have DC Entertainment president Diane Nelson telling MTV in September 2009 that "we actually don't have any current plans for Superman". Set against that, there's this year's Daily Telegraph report that Batman Begins director Christopher Nolan has signed up as producer of a new Superman movie. (36, 37)
Whichever way it jumps, Warners will be wary of repeating its experience with the rights dispute over 2009's Watchmen, when the studio was forced to make a hefty settlement payout to 20th Century Fox before its big superhero movie of the year could be released.
"And then, of course, the Watchmen movie underperforms," says Trexler. "If you're looking at this from Time Warner's perspective, I'm not sure you want to do that same thing now with the Superman movies. When you're doing a $100m or $150m movie, sacrificing up to potentially 50% of the profits could end up putting the movie significantly in the red. And yet, if you go back to doing something underwhelming, it could be the death of the franchise - and I don't think anybody wants that."

This article, posted on-line in July 2010, is an up-dated and expanded version of my piece in Little White Lies #28 (March/April 2010).


Postscript:
Kirby's heirs suffered a heavy defeat in New York's Southern District Court on July 27, 2011, when Judge Coleen McMahon ruled that his Marvel pages had been drawn as work-for-hire.
That
meant Marvel had automatically owned the characters all along, and hence that there were no rights for Kirby's family to reclaim. This verdict came in response to Marvel's request for a summary judgement closing the case down before it reached trial. Marc Toberoff, the Kirbys' lawyer, has filed papers to appeal the ruling.
McMahon
based her verdict on evidence from a range of comics experts, including Stan Lee, Roy Thomas and John Romita Sr (for Marvel), plus Jim Steranko, Joe Sinnot and Mark Evanier (for the Kirbys). Lee would give Kirby a premise in outline, she ruled, and then "created the plot and dialogue for the characters after the pencil drawing was complete".
Postscript II:
On October 12, 2012, Warner Brothers won a California District Court ruling that the Joe Shuster estate's attempt to regain his share of Superman's ownership was invalid. Judge Otis Wright decided that a 1992 agreement with DC signed by Jean Peavy, Joe's sister and primary heir, replaced everything before it.
In
this agreement, Peavy signed away all claim to Superman's rights in return for an annual pension of $25,000 and some supplementary payments. "The 1992 agreement thus represents the parties' operative agreement and, as a post-1978 grant, it is not subject to termination," Wright says.
Toberoff
filed an appeal against this ruling on December 11, 2012, the first opportunity court rules allowed for this. "Despite the studio victory, the parties figure to be in court for many years to come,"
The Hollywood Reporter's
Eriq Gardner says. "First is the Ninth Circuit hearing in the Siegel case, and down the road will likely be an appeal on this one."
(50)
Postscript III:
Another blow for Superman's creators came on January 10, 2013, when the Ninth Circuit's Court of Appeals over-turned the Siegel family's landmark 2008 victory. That was the court ruling which awarded them Jerry Siegel's 50% share of the copyright in Superman's first appearance.
In
an echo of the Shuster verdict above, Judges Reinhardt, Thomas and Sedwick concluded that an October 2001 letter to DC from lawyers representing Laura Siegel Larson (Jerry's daughter), constituted part of an enforceable contract. The lower court had been wrong to dismiss this letter, and now it must be brought back into play.
"The
Oct 19, 2001, letter itself plainly states that the heirs have 'accepted DC Comics' offer of Oct 16, 2001, in respect of the Superman and Spectre properties'," the three judges say. "What follows is five pages of terms outlining substantial compensation for the heirs in exchange for DC's continued right to produce Superman works."
If
Toberoff wants to challenge that decision, he'll have to appeal to the US Supreme Court. Even if he does this, though, Jeff Trexler, the leading legal commentator on these issues, thinks he's very unlikely to succeed. "Without a Circuit split on an important issue, the [Supreme] Court has little reason to stir up the dust by flipping well-established law," he writes.
(51)
Barring
a Supreme Court surprise, the Siegel estate's case will now be referred back down to the lower courts which first considered it. "A judge upon remand will likely determine that the [October 2001] agreement waives the Siegel estate's right to terminate," writes Garder.
(52)
"The
Siegels' 2008 victory is all but officially null and void," Trexler adds. "The Siegel heirs will instead receive what they are owed under the 2001 settlement agreement."
In
a footnote to the Siegel case, judges also rejected Toberoff's attempt to quash a DC lawsuit against him personally. "According to DC, Toberoff unlawfully interfered with the settlement agreement between DC and the Siegel heirs," Trexler explains. "Based on what happesn at trial, Toberoff could end up owing DC millions of dollars in damages and attorneys' fees."
None
of these rulings can be described as a final outcome for any of the three families. As I write this in January 2013, though, it's looking like three-nil to the corporations. The latest verdicts come just in time for the June 2013 release of the new Superman movie
Man of Steel
, and both DC and Marvel now have a far firmer grip on their key characters than seemed to be the case just five years ago. That 2008 Superman ruling - now erased by the Ninth Circuit's decision - really did make it look like anything was possible for a while, but perhaps we should have guessed that it could never last.
Postscript IV:
Make that four-nil. On April 18, 2013, a US District Court tied up the loose ends of Superboy's rights and those springing from the
Action Comics
preview ads - and did so in DC's favour.
Judge
Otis Wright ruled that the Siegels "undoubtedly intended" these rights to be included in their 1997 copyright termination notice to DC. That meant they were included in the 2001 settlement letter from Laura Siegel Larson too, which relinquished all the Siegels' rights. "The court holds that the 2001 agreement between DC and the Siegels re-granted the Siegels' Superman, Superboy and Superman Ad works in return for substantial advances and royalties," Wright says.
We
already know from the January 2013 ruling (above) that Laura Siegel Larson's letter has contractual force, and so invalidates the family's 2008 victory over Superman's rights. The effect of Wright's judgement is to wipe out their 2006 Superboy win too.
It
remains to be seen whether there will be any appeal against this, but the Siegels have already challenged DC over its execution of the 2001 contract. Among other things, they claim DC has failed to honour some of the contract's agreed payments, and failed to include an agreed credit on Superman comics and other media. If this balloons into a full breach of contract case, Wright says, it will have to be resolved at State Court level.
The
disputed credit, as set out in the Siegels' complaint, should read: "By Special Arrangement with the Jerry Siegel Family". Taking a snapshot of various DC comics with a June 2013 cover date, I found
Superman, Justice League
and
Superman Family Adventures
carried this wording, but that
Action, Superboy, Supergirl
and
Smallville
did not. These June 2013 issues seem to be the first to carry the additional credit in any Superman book, which makes me wonder if anyone at DC remembered to add the same line to
Man of Steel's
movie credits in time for its June 14 opening weekend.
Postscript V:
The Kirbys appealed the New York court's decision (above), taking it to the US Court of Appeals, which gave its decision on August 8, 2013. This upheld the lower court's decision that the work at issue was made for hire and hence not available for any reclamation of rights.
Toberoff
repeated his argument that this interpretation of the "instance and expense" test had effectively been over-ruled by a precedent set in the US Supreme Court, and said he would request a Supreme Court hearing of the case to clear this matter up once and for all. His hope was that the Supreme Court would rule in the Kirbys' favour, and so reverse both the earlier verdicts.
Postscript VI:
On May 14, 2014, the Supreme Court expressed an interest in the Kirby case and invited amicus briefs from both sides to help it decide whether or not the case merited a full Supreme Court hearing.
The
Kirbys' call for this hearing attracted some very heavyweight support. Briefs supporting them were submitted by Hollywood actors', directors' and screenwriters' guilds (the SGA, the DGA and the WGA respectively), plus Bruce Lehman (former director of the US Patent & Trademark Office) and Ralph Oman (former director of the US Copyrights Office).
Also
submitting briefs on the Kirbys' side were what one report calls "scores of artists' associations and hundreds of artists, including several Pulitzer Prize winners". Their interest was in getting the August 8 interpretation overturned in case it ever blocked their own attempts to reclaim copyright on old work.
Postscript VII:
On September 23, 2014, news broke that the Supreme Court was close to making a decision on whether or not to hear Kirby v Marvel - with that decision due to be announced on September 29.
Just
three days later, on Friday September 26, Kirby's heirs and Marvel Entertainment issued a joint statement saying they'd come to an out-of-court settlement. "Marvel and the family of Jack Kirby have amicably resolved their legal disputes and are looking forward to advancing their shared goal of honouring Mr Kirby's significant role in Marvel's history," the statement says. The terms of this new agreement have not been disclosed.
Reporting
the settlement, Reuters added that "in conjunction with Friday's deal" the Kirbys had moved to withdraw their petition asking for the Supreme Court hearing. This leaves the legal position exactly as it was in July 2011: Kirby's work for Marvel was done on a "work for hire" basis, and therefore he never held any copyrights for his family to reclaim.
Postscript VIII:
On October 6, 2014, the US Supreme Court declined to review the Shuster estate's case (see Postscript II above). The Ninth Circuit Court of Appeals had already confirmed the California Court's ruling in DC's favour, and the Supreme Court's decision means it sees no reason to challenge that view.
The
upshot of this is that it's still Jean Peavy's 1992 agreement with DC that prevails. Post-1978 grants such as this one are not subject to termination, so it follows that the Shusters have no case to plead.
Sources
1) Personal interview, June 3, 2002.
2) Telephone interview, January 25, 2010.
3) DC Comics v Pacific Pictures Corporation and others, May 14, 2010.
4) Los Angeles Times, May 14, 2010.
5) The Hollywood Reporter, May 16, 2010.
6) Men of Tomorrow, by Gerard Jones (William Heinemann, 2004).
7) Quoted in The Comics Journal #208 (November 1998).
8) The Comic Book Makers, by Joe Simon & Jim Simon (Vanguard Productions, 2003).
9) Original Siegel & Shuster Superman copyright assignment contract (reproduced at http://uncivilsociety.org/2009/05/original-siegel-shuster-superm.html).
10) Quoted in Jerry Siegel's 1975 press release.
11) The Comics Journal #184 (February 1996).
12) The Comics Journal #263 (November 2004).
13) Marvel: Five Fabulous Decades of the World's Greatest Comics, by Les Daniels (Harry N Abrams Inc, 1991).
14) Sid Jacobson editorial memo, February 23, 1954. Reproduced in (8) above.
15) Will Eisner's Spirit Magazine #39 (February 1982).
16) Excelsior: The Amazing Life of Stan Lee, by Stan Lee & George Mair (Boxtree, 2003).
17) Castle of Frankenstein #12 (1968).
18) Telephone interview, June 2003.
19) Stan Lee and the Rise and Fall of the American Comic Book, by Jordan Raphael & Tom Spurgeon (Chicago Review Press, 2003).
20) The Comics Journal #134 (February 1990). Reprinted in (27) below.
21) The New York Times, April 16, 2008.
22) Telephone interview, July 1, 2003.
23) Fantastic Four Special #8 (December 1970).
24) Superman's Pal Jimmy Olsen #133 (October 1970).
25) Comic Book Resources
(http://goodcomics.comicbookresources.com/2007/05/31/comic-book-urban-legends-revealed-105/).
26) Jerry Sielgel's 1975 press release.
27) The Comics Journal Library: Jack Kirby (Fantagraphics Books, 2002).
28) Destroyer Duck #1 (Eclipse Enterprises, 1982).
29) The Comics Journal #105 (February 1986).
30) Telephone interview, June 2003.
31) Titans Tower (http://www.titanstower.com/monitor/?p=315)
32) Legion of Three Worlds #4 (June 2009).
33) Superman #700 (August 2010).
34) Superman in Black & White, by Jeff Trexler, Uncivilsociety.org, March 28, 2008 (http://uncivilsociety.org/2008/03/superman-in-black-and-white.html).
35) DC Comics v Unlimited Monkey Business, 1984 (http://brittonpayne.com/Marvel/SuperStudWonderWench.htm).
36) Quoted on many movie sites, including: http://superman-man-of-steel.moviechronicles.com.
37) Daily Telegraph, July 1, 2010.
38) The Comics Journal #41 (August 1978).
39) The Comics Journal #63 (February 1981).
40) The Comics Journal #99 (June 1985). 41) Why the Duck Doesn't Suck, by Dan Blouin (website address unknown).
42) Archie: The Best of Dan DeCarlo vol 1 (IDW Publishing, 2010).
43) The Trades, January 1, 2002 (http://www.the-trades.com/article.php?id=1645
44) The Comics Journal #229 (December 2000).
45) The Comics Journal # 240 (January 2002).
46) The Comics Journal #236 (August 2001).
47) The Comics Journal #239 (November 2001).
48) Telephone interview, July 1, 2003.
49) The Comics Journal #262 (August/September 2004).
50) The Hollywood Reporter, October 17, 2012.
51) Today's Superman Rulings Explained, by Jeff Trexler (http://comicsbeat.com), January 10, 2013.
52) The Hollywood Reporter, January 10, 2013.