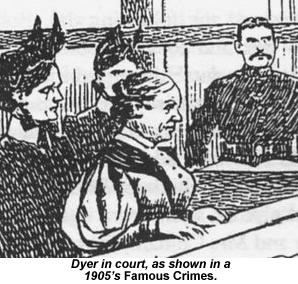 The correspondence with Marmon proved rather more complicated. Marmon hoped to reclaim Doris when her finances were in better order, and asked Dyer for more and more assurances about the baby's welfare - all of which Dyer provided. Eventually, they struck an agreement too, again at a price of £10, and Dyer agreed to call at Marmon's Cheltenham home to collect Doris on March 31, the day before her appointment with Sargeant.
Dyer collected Doris as planned, together with the money and a box of baby clothes supplied by Evelina, and took the baby up to London by train. Mary and Arthur had moved to 76 Mayo Road in Willesden by this time, and that's where Dyer went next. A woman on the bus saw Dyer get off there, carried her bag for her as far as number 76, and later confirmed the baby had been alive when she left Dyer there.
Mary saw Doris on her mother's arm when she opened the door, asked if that was the Marmon child, and Dyer replied it was. "I went into the house and into the back yard, leaving my mother on the doorstep," Mary later testified. "I may have been there ten minutes. I then went into the sitting room. My mother was there, sitting at the table and putting a carpet bag under the couch. [...] Up to the time of going to bed, I heard no sound, and saw no sign of the child who had been in my mother's arms."
Mary said she'd asked her mother what had happened to the baby, and that Dyer had replied she'd just been holding it for a Mrs Harris, who had reclaimed it while Mary was in the back yard. Dyer split the baby clothes Marmon had given her between Mary and Charlotte Cullum, the Palmers' landlady.
Next day, Dyer, Mary and Harold went off to Paddington Station, where they collected Harry Simmonds from the Sargeants. Dyer accepted payment of £5 in cash and £5 as an IOU and signed the receipt "Annie Thomas".
Dredging the river turned up not just Doris and Harry's remains, but four other dead babies
The two women took both children back to Mayo Road where, at about 6:00pm, Mary decided it was time to put her own Harold to bed. "She said 'I will put this one too'," Mary claimed. "I took Harold into the other room. [...] I might have been out of the room for ten or fifteen minutes. When I got back to the sitting room, the baby was lying on the couch, covered all over with her shawl. I asked if it had gone to sleep and she said 'Yes'. I went to look at it, but she pushed me away."
Four hours later, when they all went to bed, Harry had still not moved or uttered a sound, but Mary insisted that she and Arthur never questioned Dyer's explanation that he was simply sleeping and should not be disturbed.
"Next morning, I went into the sitting room about 8:00 o'clock," Mary said. "I could not see the baby. As I was sweeping out I noticed a parcel under the head of the couch. I could only see one end of the parcel: it looked like the shape of a child's head. It was tied up in what looked like a napkin. The rest of the parcel was like a child's body, so that the whole thing looked like a child. I asked her again what she had done with the baby. She said the baby was all right - I was not to worry about it."
Later that day, Dyer took a couple of bricks from the Palmer's back yard and stowed those under the sofa too. At about 7:30 in the evening, she asked Mary and Arthur to take her back to Paddington for her journey home to Reading. "I left the sitting room and went to my bedroom to get ready," Mary claimed. "When I came back to the sitting room, I noticed that the carpet bag was packed. It looked more than full - it would not close at the top. There was brown paper over the top, and the bag was tied round the centre with string. I looked under the sofa and there was nothing left there."
Mary and Arthur took Dyer to Paddington on the bus, saw her on to the Reading train and returned to Mayo Road. Dyer got off the train at Reading, took her loaded bag to the Thames near Caversham Lock and pushed it through the railings into the river. John Toller, who spotted her returning from the river at about 11:00pm, later identified her in court as the woman he'd seen.
Dyer got back to her own house about 11:30pm, explaining to her housemate that her train had been delayed. Next day, she had an appointment to see another potential client, who'd arranged to call at Dyer's Reading home.
What she didn't know was that this client worked for the police. Three days earlier, on March 30, a Thames bargeman had fished the remains of a baby called Helena Fry out of the river. Dyer, who'd collected Fry at Bristol Temple Meads Station on March 5, had wrapped the body in brown paper which, when studied with a microscope by police, revealed faint traces of Dyer's old address. They'd been tracking her ever since.
Opening the door for what she'd assumed would be her new client, Dyer found the police on her doorstep instead. They searched her home, reporting a smell of human decomposition, but finding no bodies there. They did find a supply of white sewing tape, telegrams about adoption arrangements, pawn tickets for children's clothes, receipts for newspaper ads and letters from Evelina Marmon and other mothers asking about their children's well-being. Here was everything a murderous baby farmer would need to carry out her trade.
Police estimated at least 20 children had been committed to Dyer's care in the past few months alone. They arrested her next day, along with Arthur Palmer as her suspected accomplice. The next step was to dredge the Thames. This turned up not only the bag containing Doris and Harry, but four other dead babies besides, all of whom had been strangled. "You'll know all mine by the tapes round their necks," Dyer told police.
Evelina Marmon and Mrs Sargeant identified the remains of the babies they'd given Dyer at Reading morgue, and confirmed that the bag and the baby clothes recovered were the ones she'd been seen with too. Even the brick weighing the bag down was compared with those in the Palmers' back yard and found to match. Dyer made two attempts to kill herself while held at Reading police station, and then wrote a full confession clearing Arthur and Mary Palmer from all involvement in the killings. "I know that I have done this dreadful crime, and I alone shall answer for it," she wrote. This was enough to free Arthur, but may have helped to guarantee Dyer the death penalty by establishing she was sane enough to know right from wrong.
The police chose Doris Marmon's murder as the one with the best chance of conviction, and it took an Old Bailey jury just five minutes to find Dyer guilty. She was hanged at Newgate by James Billington on June 10, 1896.
Two years later, Mary and Arthur Palmer were arrested for abandoning a three-week-old baby on the train at Newton Abbot. They had agreed to take on the baby in return for a £12 payment from a Plymouth widow called Jane Hill, who had responded to one of their advertisements. The train was left in a cold siding overnight and the baby survived only by chance.

Notes
In their biography of Dyer, Alison Rattle and Allison Vale reconstruct Mary Palmer's childhood encounter with an earlier ballad about her mother's crimes.
Visiting the Bristol district of Totterdown just after Dyer was jailed for neglect in 1879, Mary comes across a man selling ballads on the pavement. He's singing one of the ballads on offer to attract a crowd, and Mary edges nearer to try and hear the words.

"Babies, she realised. He was singing about babies. She picked out a phrase: '...taken in to die'. Fearfully, she tried to move away but found herself hemmed in by the gathering crowd. She tried to bustle her way through, squeezing between felt trousers and full skirts. She remembered several children she knew had been standing at the back of the group. Just as she caught the eye of a boy she recognised, she heard the ballad-monger sing out two words she hadn't expected to hear: 'Amelia Dyer'. [...] She heard the boy cry out 'There's one of her kids!'
"She froze. All eyes were on her. For a second there was silence. Then the ballad-monger spoke. 'Poor girl; she can't help it.' [...] No-one paid him any heed. Polly walked the rest of the street to the sound of hoots and boos from an entourage that would not be shaken off."

Polly was Mary's family nick-name, and that's how Rattle and Vale refer to her throughout. "The lyrics of this ballad, recalled in snatches by Polly in adulthood, encapsulated the anger felt by the people of Totterdown," they write. "Their gut feeling about this crime was intensified by (its) simple rhyme and melody so that some of the crowd took out their anger on the woman's six-year-old daughter."
That same anger surfaces again in the vengeful tone of Dyer's execution song. Like any woman who kills children she produced a burst of venom in the British public, and the later ballad acknowledges that by bemoaning the fact that she can't be burned alive.

To hear Elsa Lanchester singing Mrs Dyer The Baby Farmer, visit the Tindeck music hosting page here.

Sources
* Amelia Dyer: Angel Maker, by Alison Rattle & Alison Vale (Andre Deutsch, 2007).
* Mrs Dyer the Baby Farmer, by Elsa Lanchester and Ray Henderson (from the album Cockney London, Verve 1960).
* Old Bailey transcripts (http://www.oldbaileyonline.org/browse.jsp?ref=t18960518-451)
* Murder Guide to London, by Martin Fido (Orion, 1994).
* Bloody Versicles: The Rhymes of Crime, by Jonathan Goodman (Kent State University Press, 1993).
* Wikipedia (http://en.wikipedia.org/wiki/Amelia_Dyer)
* True Crime Library
(www.truecrimelibrary.com/crime_series_show.php?series_number=3&id=332)