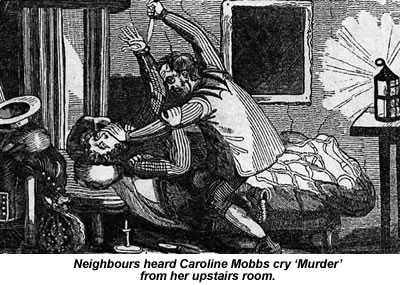 When she reached the courtyard, Angling heard Caroline screaming to Mobbs that, if he did not leave her alone, she would jump out of the window. "I did not hear her say anything to him while the window was open, but she said to me 'Was I not in your place, my dear, all night?'," Angling told the court. "I said 'Yes," and she said to him 'Now are you satisfied?' He made no answer that I heard." These cries brought a patrolling policeman into Enoch Court, but he left again without interfering.
Caroline was next seen about ten o'clock on the Wednesday morning - August 24 - when Lancaster bumped into her carrying a pail of water up from the courtyard and Caroline returned her cloak. At lunchtime that day, Scott met Mobbs again in the courtyard. This time he was sober but, when she tried to speak to him, he hushed her immediately and went into his house. An hour or so later, Lancaster passed the Mobbs' door on her way out and heard them speaking quietly inside.
Scott was in the courtyard again between 2:30 and 3:00 that afternoon, when Mobbs sent his ten-year-old daughter downstairs to summon her up to the room. "I understood that he had something to say against me, and went up to hear what it was," Scott testified. The little girl stayed behind in the courtyard.
'Mrs Mobbs came downstairs with her throat cut and her hair hanging about her shoulders'
"He and his wife were there," Scott recalled. "I heard her say that, if she was what he represented her to be, she never would have been his wife. That was the first thing I heard said. The prisoner said 'Never mind, never mind. It won't occur again,' in a very low tone of voice. I then went downstairs and, just as I went into the court, I heard a cry of 'Murder!' proceeding from his room. I could recognise the voice that screamed - it was Mrs Mobbs - and I called to him from the passage of number 7 to let her out of the room."
Lancaster confirmed this account. "I heard a cry of 'Murder!' distinctly," she said. "It was the voice of Mrs Mobbs. And then I heard faintly 'Murder!' and 'Help!'. I also heard the youngest boy, who I think is about four years old, cry 'Oh, Mother!' On hearing those cries, I and some of the neighbours went up to the door of the passage, and Mrs Jones went up to the door of the prisoner's room."
"The screams were so different from what we were accustomed to hear that we went upstairs," Jones herself added. "The screams were so very violent."
Jones banged on the door and shook at the handle, but Mobbs had dragged a chest across the door, and she could open it only by an inch or two. "I said, 'You wretch! You let the woman out and don't you murder her!'," Jones said. "The screams then entirely ceased and I heard a rustling in the room. It was somebody moving chairs or something of that kind. Some person then opened the door with a great crash. My neighbours called to me and I ran downstairs."
"Mrs Jones came down from the door," Lancaster confirmed. "And Mrs Mobbs came down after her with her throat cut and her hair hanging down about her shoulders."
"I saw the deceased coming downstairs with the blood flowing from her neck," Scott added. "She was covered with blood, and when she came into the court, we perceived that her throat had been cut. She was not able to speak."
"I never turned round till I was at the street door," said Jones. "I waited till she came though the passage to me, and saw that her throat was cut. The neighbours came, and we tied an apron to her throat." The three women did what they could to help Caroline, who was then taken to the London Hospital where the house surgeon Horace Debenham pronounced her dead.
"Her clothes were saturated in blood," he told the court. "There was a wound across the front of her throat about six inches long, and on the face and neck there were ten other smaller wounds. The wound on the throat divided three of the jugular veins. That caused her death." Debenham also found small wounds on both of Caroline's hands, suggesting she had tried to fend her attacker off.
After Caroline was taken away, Lancaster went back inside number 7 to fetch her baby, which meant she had to pass the Mobbs' open door on her way up the stairs. "I saw the prisoner lying on the floor, and his little boy sitting in a chair near him," she said. There was a pool of blood by the door, near where the prisoner was lying. When I came down with my baby, I saw another pool of blood by the fireplace. I called the officers."
John Reorden got home from work at around this point, the women told him what had happened, and he went upstairs to the Mobbs' room. "The prisoner was on his back, bleeding, with a brown-handled knife in his hand," Reorden said. "There was another pool of blood near the middle of the room. A constable came soon after I got there, and also a surgeon. The prisoner got up, and the knife fell from his hand."
PC John Featherstone showed the court that knife during his own testimony. "There was blood on it," he said. "It was handed to me by some person in the room. I said 'I suppose this is the knife that done the deed?' The prisoner said 'No, it was a white-handled one', and pointed to the cupboard."
Mr Holman, the surgeon, went over to the cupboard to investigate. "He found a white-handled knife, all over blood, and handed it to me," Featherstone told the court. "This is it. It is in the same state now, only it was wet."
Lancaster, Scott and Angling watched as Mobbs was carried past them out of Enoch Court and towards the London Hospital, where Debenham was waiting. "I examined a wound across the front of the prisoner's throat," Debenham testified. "It was between five and six inches long. It opened the windpipe in two places, and divided one of the principal arteries. I did not think he would live an hour when he came in."
The doctors sewed up Mobbs' neck and found a bed for him at the hospital. Soon, he was able to talk again, and Featherstone was there with his colleague PC James Roots to note down what was said. Once again, Mobbs claimed his wife had been out all of Tuesday night with a policeman, and said she had also been out most of the night before. It was concern for his own safety, he claimed, that led him to kill Caroline.
"He said he would not have done it if she had not taken the white-handled knife and said she would stab him," Roots reported. "That he took the knife from her and cut her throat - gave her two cuts and then put the knife down, took up his child, who was in the room, and kissed it, and then took up the brown-handled knife and cut his own throat."
Mobbs' trial began at The Old Bailey on October 24, 1853, where he was represented by a Mr Clarkson, who accepted that his only hope was to downgrade the charge from one of murder to manslaughter. Clarkson managed to curtail a few of the prosecution's accounts of Mobbs' earlier violence towards Caroline, but the outcome was never really in doubt. The jury took just 15 minutes to find him guilty of murder, Mr Justice Cresswell donned his black cap, and the sentence was death by hanging.
Execution day was Monday, November 21, 1853. A crowd had already gathered in front of Newgate's gallows when the sheriffs arrived to take Mobbs from his condemned cell at 7:00am. The Paul broadside tells us they found him praying there with Newgate's chaplain. William Calcraft, the executioner, shackled Mobbs and prepared to lead him outside. "During these awful and melancholy preparations, the prisoner sighed deeply and appeared to suffer greatly," Paul says.
Mobbs was then taken in a small procession through Newgate's courtyards towards the gallows, the chaplain leading the way and reading out the burial service as they walked.
"No sound except the tolling of the bell interrupted the clergyman as the mournful cavalcade moved towards the platform," Paul says. "On arriving at the foot of the steps leading up to the scaffold, the prisoner thanked the sheriff and the governor for their kindness during his confinement. He then with a firm step ascended the scaffold and the executioner placed him in a proper position.
"As soon as the unfortunate man appeared on the scaffold, a death-like silence seemed to prevail over the vast multitude assembled to witness the last moments of the miserable man. The executioner having adjusted the fatal rope and drawn the cap over his eyes, then retired from the platform. On the signal being given, the bolts were withdrawn, and the murderer was launched into eternity."

Notes
The Paul broadside gives a faithful account of Mobbs' crime, quoting accurately from the same Old Bailey transcripts I've used here. The ballad sticks closely to the facts too.
I'm a little more sceptical about the description of the hanging. Everything that's said on that subject is pretty generic stuff, and it would have been very tempting for Paul to get it written and printed in advance so as to have copies available at the execution itself. We know it was on sale the same day, and what better spot to sell it than among the crowds watching Mobbs dangle? They may well have been willing to swallow the improbabilities of it being available so soon in return for the chance to buy a cheap and enjoyable souvenir of their morning out.
The ballad's "Whitechapel Haynau" line, incidentally, is a reference to the Austrian general Julius Jacob von Haynau, who was notorious for having his female prisoners whipped in the Italian city of Brescia. When Haynau visited London in 1850, draymen at Southwark's Barclay & Perkins Brewery attacked him. "He had beaten women, and they beat him," wrote GK Chesterton. "They regarded themselves simply as avengers of ladies in distress, breaking the bloody whip of a German bully."

To hear South County perform its own song based on The Execution of Nathaniel Mobbs, please visit the Soundcloud page here. You can also see the band perform it on YouTube as a live demo or at at this concert in Elmsford, New York.

To hear Fred Smith sing the original Execution of Nathaniel Mobbs lyrics to his own music, please visit the Soundcloud page here.

To hear C#Merle performing The Execution of Nathaniel Mobbs using one of his own hand-crafted instruments, please visit the Soundcloud page here.

Sources
* Full Particulars of the Life, Trial, Confession and Execution of Nathaniel Mobbs for the Murder of his Wife (Paul, Seven Dials, 1853)
* Trial transcripts (http://www.oldbaileyonline.org)
* Victorian hangings (http://www.truecrimelibrary.com)
* The Crimes of England, by GK Chesterton (Kessinger Publishing, 2004)
* Murder Guide to London, by Martin Fido (Orion, 1986)