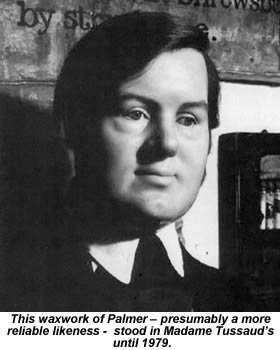 The inquest was held at the Talbot Arms in what Lewis calls "a most shambolic way". A crowd of townspeople were allowed in to watch proceedings, including Palmer himself and his crony Cheshire. Despite Hartland's presence, the examination itself was carried out by Charles Devonshire, an inexperienced medical student, and Charles Newton, the unqualified pharmacist's assistant who later testified against Palmer in court. It was Newton's first autopsy, and Palmer was allowed to feed him a couple of brandies beforehand "to steady his nerves".
Never mind the Keystone Kops: these were the Keystone Koroners, as the following extract from Lewis' account makes clear:

"The unqualified Devonshire should have been given guidance and certainly stopped before he went and cut the stomach from end to end, carelessly turning it inside out and throwing it into a jar. As Devonshire was opening the stomach, Palmer was seen to push against Newton, who subsequently bumped into Devonshire and some of the contents of the stomach spilled into the body."

The jar containing Cook's stomach and its contents was closed with a double seal, and then placed on the table near the body. A little while later, someone noticed it had gone missing. Palmer said he'd moved it somewhere "more convenient", and was told it return it. When he did so, Devonshire noticed that the double seal had been cut through, but said no contents seemed to have been lost.
The papers took it for granted that Palmer was guilty, and painted him as thoroughly evil
One report claims Palmer tried to bribe a messenger boy to smash these specimen jars as he took them to the London train. In the event, Taylor at Guy's found the samples so useless that he had to ask for replacements.
A second post-mortem was held on November 29, and this time Taylor received Cook's liver, kidneys, spleen and some blood. Palmer, who had persuaded Cheshire to intercept any letters to the coroner for him, was delighted when this produced Taylor's December 4 report that he could find no strychnine, prussic acid or opium in the samples he'd been sent. Palmer wrote to the coroner himself underlining this point, and backing up the letter with several expensive presents. These letters were later produced against him in court, and led to Cheshire serving two years in Newgate for tampering with the mails.
Cook's inquest sat before a coroner's jury on December 14, 1855. Taylor confirmed that he had been able to find no traces of strychnine in Cook's body, but said he nonetheless believed Palmer had given him strychnine in the pills he'd claimed were either morphine or ammonia. The jury found for death by poison, but then over-stepped its brief by adding that William Palmer had administered it. The coroner presiding, William Ward, was later censured by the Lord Chief Justice for running the inquest so badly.
Palmer was arrested at home, then taken late at night to Stafford Gaol in a trip timed to avoid the hostile crowds already gathered outside his house. Still insisting on his innocence, he staged a six-day hunger strike at the gaol, relenting only when the governor threatened to start the painful process of force feeding him.
There was no Contempt of Court Act in those days, which left the newspapers free to go hog wild. Most took it for granted that Palmer was guilty, and set about painting him as a thoroughly evil man. For the five months between Palmer's arrest and his trial, the papers filled their pages with the case. The Illustrated Times told readers that Palmer's crimes had "sent a thrill of horror throughout the land", and followed this assertion with a 15-page supplement discussing the case. "If it should be proved in the end that he is one of the greatest of villains, it will also be ascertained that he was one of the clumsiest," it said. "There is none of the heroic finesse of the historic poisoner about him."
No chance was missed to trawl through Palmer's seamy past and put the worst possible interpretation on every episode. Much of what the papers reported was no more than gossip, and they barely bothered to distinguish this from established fact. If all they said was to be believed, Palmer had murdered as many as 14 other people before killing Cook, including six of his own illegitimate children. And all this, remember, was in print before he'd even been tried, let alone convicted.
The song mentions only three of the most credible accusations, and these are:

* Mary Thornton, Palmer's mother-in-law, died in January 1849 after being found passed out in the street from too much drink. She was a drunken, foul-tempered woman, whose behaviour had only got worse when Colonel Brookes, her common law husband, shot himself in 1834. Palmer's said to have hastened Mary's end because he believed this would let Annie, his wife, inherit the nine cottages Brookes had owned. In fact, Brookes' will had left those cottages in Chancery, and Annie got nothing extra from her mother's death.

* Annie Palmer, William's wife, died in September 1854 after catching a chill in Liverpool. William had insured her life for £13,000 that April, and so far paid only one premium of £760. While Annie was ill in bed, he served her food which made her vomit. Her body was exhumed after Cook's death, and found to contain traces of antimony, a substance which - depending on the dosage - can be either a fatal poison or a helpful purgative. Stafford Assizes ruled in March 1856 that Palmer had "a case to answer" for Annie's death, but he was finally convicted for Cook alone.

* Walter Palmer, William's brother, was a bankrupt alcoholic who everyone assumed would not live long. William offered him an up-front payment of £400 if he'd agree to William insuring his life. Walter agreed and William managed to keep him sober just long enough to pass a insurance medical. He insured Walter for £14,000 and paid just one premium of £710 before Walter died in August 1855. This time, the insurance company refused to pay out, but Stafford Assizes decided William had no case to answer on accusations of poisoning his brother.

Palmer's trial for Cook's murder began at the Old Bailey on May 14, 1856, with Sir Alexander Cockburn, the UK's attorney general, leading the prosecution. Cockburn was keen to win a high-profile victory in this particular case, and turned in a stunning performance. In his 1935 book Palmer, Dudley Barker particularly praises Cockburn's masterful opening speech. "Its supreme brilliance is its completeness," he says. "Its compact presentation of a most difficult case, and its triumphant prose, sentence knit to sentence throughout, harmonised like a symphony. [...] It held the fascination of a perfect piece of craftsmanship."
Serjeant Shee, defending Palmer, countered Cockburn's evidence with a string of his own medical witnesses casting doubt on whether it was really strychnine that killed Cook, but could never match his opponent's skill or eloquence. When Shee called a local solicitor called Jere Smith to provide an alibi for Palmer at the time the strychnine was purchased, Cockburn's cross examination demolished the man's credibility with contemptuous ease.
The jury took just 77 minutes to pronounce a unanimous guilty verdict and Lord Campbell, the judge, sentenced Palmer to hang at Stafford Gaol on June 14. Still protesting his innocence as he left court, Palmer passed his solicitor a note saying "It was the riding that did it". For a racing man, the implication was clear: it was not the inherent strength of Cockburn's case that produced his victory, but the skill with which he'd handled it. In other words, the jockey deserved more credit than the horse.
On the day of the hanging itself, the Staffordshire Advertiser reports, the prison's governor asked Palmer flat-out whether he had killed Cook, and Palmer replied only that it was not strychnine that killed him. Asked again, he said; "Lord Campbell summed up for poisoning by strychnine", and declared he had no more to add.
The case was so famous by the day of Palmer's execution that special trains had to be laid on to Stafford for the huge crowds expected to attend. The Staffordshire Advertiser had a man stationed on the road from Penkridge. "The spring carts, omnibuses and other carriages kept rolling along in uninterrupted succession," he writes. "It seemed the town would not hold this vast influx of carriages with their living freights. On a very moderate computation, five thousand persons entered Stafford by carriage on that road only, while the number of pedestrians was very considerable."
The final crowd gathered to watch Palmer hang is estimated at between 30,000 and 35,000 people. By all accounts, they were much better-behaved than their London counterparts. Palmer was left hanging there for an hour, as the law demanded, and then buried in quicklime next to the prison chapel.

Notes
Stafford prison's ropemaker deliberately made Palmer's rope 30 yards longer than it needed to be, and then sold two-inch lengths of it to souvenir hunters at half a crown each. Ten years later, George Smith, Palmer's hangman, was still selling bits of "the rope that hanged Palmer" to gullible customers at his pub near Dudley. No matter how much of this rope he sold there always seemed to be plenty left, prompting this cynical little Black Country rhyme:

"He's a crafty old charmer,
Is Smith who killed Palmer,
And the rope that he sold,
Would stretch all the road,
From Dudley to regions much warmer".


Palmer's waxwork entered Madame Tussaud's Chamber of Horrors in 1857, remaining there for an impressive 122 years. Sherlock Holmes mentions him in 1892's story The Speckled Band. "When a doctor does go wrong, he is the first of criminals," he tells Watson. "He has nerve and he has knowledge."
Robert Graves wrote a novel about Palmer called They Hanged My Saintly Billy in 1957. Later that year, it was adapted to become The Mystery of Thirteen, a CBS television play starring a young Jack Lemmon as Palmer. Yorkshire Television followed this with its own two-parter, The Life and Crimes of William Palmer in 1998 with Keith Allen in the title role

To hear Big Al Whittle sing The Life & Trial of Palmer (in a version he calls Death of William Palmer), visit the Soundcloud page here.

Sources
* In writing this piece, I've drawn heavily on Dave Lewis' book The Rugeley Poisoner (Artloaf 2003). It's an excellent source of the facts about Palmer's life and career, and copies are available at www.williampalmer.co.uk
* Old Bailey transcripts (http://www.oldbaileyonline.org/browse.jsp?id=t18560514-490-offence-1&div=t18560514-490#highlight)
*The Life and Trial of Palmer (Printer unknown, 1856).
* The Speckled Band, by Arthur Conan Doyle (collected in Sherlock Holmes Selected Stories, Oxford University Press, 1951).
* The Illustrated Times, January 19, 1856 and February 2, 1856.
* Staffordshire Advertiser, June 21, 1856.