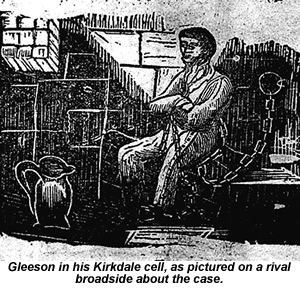 Between 10:00 and 11:00 that morning, Ann Henrichson left for the market, leaving Mary to care for the two toddlers. Henry was then five years old, and John had just turned three. Mary was cleaning out the kitchen grate when Gleeson began pestering her with queries about how much the fire tongs might be worth, how much the fender was worth, what the card table had cost. Returning to the parlour, he then chased Henry away by hitting him with a newspaper, following the fleeing child into the kitchen, where Mary stepped in to protect him. "What right have you to strike the child of my mistress?" she demanded.
The three-year-old was hiding in the back pantry, where Gleeson killed him with a kitchen knife
That's when Gleeson attacked her. He beat her round the head with either the fire tongs or the fire shovel and wouldn't stop until she passed out with a fractured skull. He then beat Henry just as badly and went off to find John. The three-year-old was hiding in the back pantry, where Gleeson used a white-handled kitchen knife to cut his throat.
There was a knock at the door. Gleeson answered it in a heavy sweat, and found the grocer's boy, Anthony Carney, delivering some potatoes Mrs Henrichson had just bought. Gleeson took the spuds, threw them carelessly on the hallway floor behind him, and then saw Ann Henrichson herself approaching. She spoke to Carney for a moment, then stepped inside the house. Gleeson beat her senseless with the fireplace poker before she could even take her gloves off. He then ransacked the house, grabbing any valuables small enough to be easily carried, and ran out into Leveson Street at about noon.
Thomas Slater, a bricklayer, was passing the Henrichson's house soon after this, when he saw a young lady at the door there who'd been unable to get in for her music lesson. She seemed a little upset at this, so he climbed up on to the railings and looked in the window for her. "I saw the servant girl lying on the floor, her head covered in blood," he later testified. "A little boy, also lying on the floor had his arms around her waist, his head lying under her. Some men came up, we broke the window and I got in.
"I found Mrs Henrichson on the floor. I asked the boy who done it and he muttered something. The mistress was badly hurt and cut on the head. Her bonnet was on and gloves. There was blood on the floor. We went into the cellar and through to the back pantry, where we saw the youngest child with his throat cut. He was quite dead."
Doctors and police arrived next. They found Ann, Mary and Henry all unconscious and bleeding profusely from multiple head wounds. One of Henry's fingers had been cut off as he tried to shield his head, and was now stuck to his clothes with blood. John's throat lay open from ear to era, his windpipe and carotid artery both severed. "It was merely the vertebrae which kept the child's head parting from his body," the Liverpool Journal reported.
On the floor near Mrs Henrichson, police found a heavy fireplace poker, bent out of shape and clotted with blood and hair. Her bonnet, veil and fur stole were all caked with blood too, producing a murmur of horror in court when these items were produced at Gleeson's trial. The gold watch which Mary later confirmed her mistress had always worn outside the house was missing.
Near the kitchen grate, police found the fire shovel and tongs, also badly bent out of shape and covered in blood and hairs. The knife Gleeson used to kill John was still in the pantry.
Ann, Mary and Henry were all taken to Liverpool's Southern Hospital, but no-one expected them to last long. In the event, Mary survived the longest, clinging to life for eight days and helping to convict Gleeson with her evidence. Ann gave birth before succumbing to her own wounds, but the baby was either still-born or died almost immediately.
We can reconstruct Gleeson's movements between the killings and his final capture from the various witness statements at his trial. Hot, sweaty and with blood-stained clothes, he ran to a nearby pond called the Figure of Eight Pit, waded knee-deep in the water and tried to wash his boots and trousers clean. He threw the letter he'd given McDermott into the pond and discarded a blood-stained handkerchief in a ditch nearby. Both were later recovered and produced in court.
Seeing his trousers were still filthy, Gleeson went to a pawnbroker in Great Homer Street, bought another pair, and was allowed to change in the shop. He then gave the old trousers to a passer-by called Henry Worthington, who later testified that he'd found blood still on them.
Gleeson then called at a second pawnshop and presented Ann Henrichson's watch. The broker, a Mr Turnstall, suspected immediately that the watch must have been stolen, and refused to take it. As Gleeson left the shop, Turnstall told a nearby policeman what had happened and suggested Gleeson would be worth keeping an eye on. The policeman followed Gleeson for a few minutes, but then lost him.
Taking the ferry back across the Mersey to Birkenhead, Gleeson found his wife, begged her forgiveness for all previous misdeeds, and charmed her into letting him share her bed for the night. He left early next morning - Thursday, March 29 -took fresh lodgings in Liverpool's Porter Street, and then set about trying to sell the watch again.
This time, he chose Miert Samuel's pawnshop in Great Howard Street. He asked originally for £30, turned down Samuel's counter-offer of £8, and then stalked out of the shop. Later that day, clearly getting desperate, he returned and accepted Samuel's revised offer of just £6. By now, news of the Leveson Street murder was spreading through Liverpool like wildfire, and Samuel became suspicious.
He consulted with his father in Hebrew for a moment, and the two men decided to tell Gleeson they had another shop in Dale Street, where he could come with them now to collect his money. In fact, they planned to hand him in at Dale Street police station, an idea Gleeson did not catch on to until the last minute. "When we got to the police office, he tried to get away," Samuel later explained in court. "But I stuck to him close enough. My father suspected he was the murderer."
The police searched Gleeson there and then, finding Mrs Henrichson's watch and purse still on him. This, combined with the fact that he had no satisfactory alibi, was enough to charge him on suspicion of killing the two boys. When people heard that Gleeson had been captured, they besieged the police station. "People endeavored by every possible means to gain access," says the Liverpool Journal. "There was never more intense excitement." Next day, Gleeson was placed in heavy shackles and taken to Southern Hospital, where Mary identified him as the killer. Once again, police had to protect him from an angry crowd.
A few months after the killings, the Duncan put in at St Helena for water and supplies, and it's there that Captain Henrichson first heard of his family's fate. "He stared at first, but staggered when assured and fell in a fit to the floor," the Liverpool Journal reports. Mary Parr's son was also on the Duncan, and was given his own sad news to bear.
Gleeson's trial began on Wednesday, August 22, 1849, and concluded the following day. He pled innocent to all charges, but the weight of evidence against him meant the outcome was never in doubt. The jury took less than five minutes to pronounce him guilty, and his hanging day was set for September 15. A last-minute rescheduling of the trial was not enough to fool determined spectators, who packed the courtroom from Wednesday lunchtime onwards and gathered in a crowd of two or three thousand outside. As soon as the verdict was announced, people rushed out of the court shouting "He is condemned!"
The feeling against Gleeson was so strong that his hanging proved the most popular for years. Special trains were laid on from Yorkshire and Lancashire's industrial towns, anyone with a cart of their own pulled it up near Kirkdale Gaol's scaffolding in the hopes of renting it out as a viewing platform, and the final crowd was estimated at 100,000. One group of Liverpool businessmen hired a steamer to give their workers a treat on the Mersey. "The programme included a visit to the lightship, returning at 11 and stopping at a point near Bootle where they could witness the execution," the Liverpool Journal reports. "After which, they would journey to Eastham for lunch."

Notes
Three months after Gleeson was hanged, Liverpool councilors met to consider complaints from property-owners in Leveson Street that house values there were falling because the murders had left it with an unsavory reputation. It was agreed that the street should revert to its previous name of Grenville Street South, and that's what it's been called ever since.
While we're on the subject of names, I should add that the ballad's original writer gets Ann and Mary's first names mixed up at one point - perhaps reflecting how little time he was given to get the thing done - and that I've corrected this error in the lyrics above.

To hear Gerry Jones performing The Liverpool Lodger to his own music and accordian backing, please visit the Soundcloud page here.

To hear the Scottish blues band meh229 perform The Liverpool Lodger, just click on the Soundcloud page here. The song also comes with a video.

Sources
* An Account of the Murder of Mrs Henrichson at Liverpool (Wilson, Bideford, Devon. (1849))
* Liverpool Journal 31/3/1849, 28/4/1849, 1/9/1849, 15/9/1849 and 28/12/1850. (quoted at www.old-merseytimes.co.uk/levesonstmurder.html)
* Verses on the Trial and Sentence of John Gleeson Wilson (John Youd, 1849).