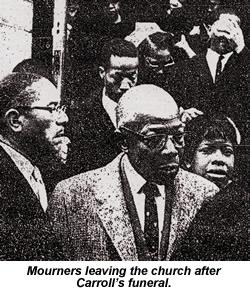 Carroll died at 9:15 on the Saturday morning, less than eight hours after Zantzinger had attacked her. "It all happened so fast," one eyewitness said of the assault. "He was like a wild animal. After he had knocked her unconscious, he became even more belligerent. Now she is dead. And all because she didn't serve him fast enough."
The hospital confirmed that Carroll had suffered a brain haemorrhage, but said her official cause of death would have to wait for the autopsy. Matters were complicated by the fact that she'd long suffered from an enlarged heart, hardened arteries and high blood pressure.
The police issued a murder warrant for Zantzinger as soon as they realised Carroll was dead, adding another warrant for Jane, who'd failed to turn up for her own disorderly conduct hearing. Next morning's Baltimore Sun splashed this news with the headline: "Caning Suspect, Wife Sought State-Wide In Death Of Barmaid: Charles County Man Is Charged With Homicide". The story beneath added that police had failed to find Zantzinger at his Mount Victoria farm, about 70 miles south of Baltimore, and now "had no idea of his whereabouts". (11)
Reading between the lines of that report, it's pretty clear the paper was hoping the Zantzingers had gone on the run, creating a police chase which would yield much juicy copy in the weeks to come. In fact, Zantzinger gave himself up the very next day, walking into Baltimore's Central District police HQ with his lawyer Claude Hanley just after noon on Sunday. He was arrested, hand-cuffed and returned to lock-up to wait for another hearing next day.
Police looked on as black Muslim men distributed flyers for a rally protesting Carroll's death
At that hearing, Judge Robert Hammerman ordered that Zantzinger should be held without bail until a murder trial could be scheduled. But Zantzinger's lawyers persuaded the superior City Court to overturn this ruling. That court's Judge Dulany Foster set Zantzinger's bail at $25,000, and allowed him to go free till the trial date. William O'Donnell, Maryland's state prosecutor, did not oppose bail.
By now, George Gessell, the Emerson's bellhop, had added his own assault complaint against Zantzinger, bringing his full sheet to one charge of homicide, two of assault (the other victim being Ethel Hill) and one of disorderly conduct. Hammerman insisted Zantzinger pay an additional $500 bail for the Gessell assault, but was then forced to release him.
"Zantzinger is charged with murder generally," the Afro reported, "which could result in conviction of first or second degree murder or manslaughter. [...] Whether a general murder charge is reduced to second-degree or manslaughter is determined by the judge or jury after hearing the facts of the case." (12)
Jane Zantzinger had to forfeit her earlier $28 but she, too, was granted bail again - this time of $603 - as she awaited her own trial for disorderly conduct. Maryland's most charming couple were back on the street.


Carroll's funeral was held on a wintery February afternoon at West Baltimore's Gillis Memorial Church, where she'd been a deacon and sung in the choir. Afro reporter Ralph Matthews put the crowd there at 1,600 mourners, only about half of whom were able to fit in the church for the service itself. White police, there to control the crowd, looked on as organisers distributed flyers for a rally to protest Carroll's death.
"It was a cold, grey day," Matthews reports. "Silent intense-looking men passed through the onlookers, handing out leaflets with a headline 'Who will be next?' The people read news of a mass meeting. They did not throw the literature away, but read the message and shoved the paper into their pockets. [...] Among the watching crowd were well-dressed men and women, school children, people stopping on their way to work, veiled Muslim women in their long grey dresses. No white faces were to be seen, except in cars whizzing east on Mulberry Street, past the church." (12)
Although there were no white faces in the crowd, the National Council of Christians and Jews did send representatives to the funeral, and so did the Emerson Hotel. Messages of sympathy came in from as far away as Alabama, confirming that Carroll's case was now getting national attention. Inside the church, Rev Theodore Jackson preached that her death would mean more to the city of Baltimore than any other it had seen.
"The ministers of this city, the doctors, lawyers, all people should come together as never before and let people know that coloured citizens are not going to stand for certain things," Jackson thundered from the pulpit. "We are in the hands of a just God, but not in the hands of a just people."
The emotional peak of the service came when the Gillis Young Adult Choir sang He Leadeth Me, Carroll's favourite hymn. "From that point till the procession from church to burial cavalcade, grief-stricken relatives had to be helped from pews to waiting cars outside," Matthews writes. There were 34 cars in Carroll's funeral procession, which took her body to Baltimore National Cemetery, where her husband James' military service had earned her a place. Crowds lingered outside the church long after the cars had disappeared, reluctant to break this last connection with a woman many of them had never known. (13, 14)
The Afro's photographs from that day show a smartly-dressed black crowd, standing 10 or 12 deep on the sidewalk opposite the church, where they fill a full city block. In the foreground are the Muslim women Matthews spotted, with long scarves covering their hair and draping down their backs. The men wear hats and long overcoats, and everyone is sombre-faced. A second photo shows weeping mourners exiting down the steps from what had evidently been a very crowded church.
Perhaps the most telling photograph from that day's paper, though, is the Afro's full-length shot of Hattie Carroll herself. Often reduced to a head-and-shoulders, the full frame shows a middle-aged woman in a elegantly simple black dress and heels. She's wearing a lace-trimmed hat with a necklace and a broach, and clutching a shiny evening bag. She looks like exactly what she was: somebody's Mum, dressed up in her Sunday best and posing for her proud husband or daughter to take a quick snap before they leave the house. It's a tiny ceremony that's been duplicated a million times, but one that's never produced quite such a touching result as this.


Zantzinger's next court appearance came on March 15 at Baltimore's Central Homicide Court, where Judge Basil Thomas took only 85 minutes to decide the charges against him were serious enough to refer the case to a grand jury. Speaking to a tense and packed courtroom, Baltimore assistant medical examiner Charles Petty testified that Carroll's fatal brain haemorrhage had been induced by the fright, fear or anger caused by Zantzinger's blow. "Emotional reaction to the blow caused her death," he said. (15,16)
Grace Shelton and Shirley Burrell, Carroll's two colleagues at the Emerson Hotel's bar, gave their accounts of Zantzinger's behaviour that night, describing all the details we've already seen. Burrell broke down and wept as she told the court about Zantzinger's attack. He had been "loud, abusive and belligerent all evening" she said.
Deputy state's attorney Charles Moylan - perhaps stung by the Afro's suggestion that his office had already decided to settle for a manslaughter conviction - insisted that his witnesses' detailed testimony was essential because it established malice on Zantzinger's part. "Malice is the essential element which distinguishes murder from manslaughter," he reminded the court.