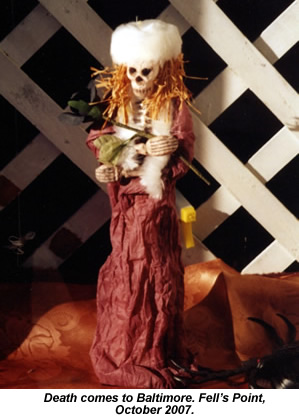 The Afro was fairly stunned itself, headlining the resulting story "Cane-killer gets off with six months" and giving it all the prominence left available by the same day's Washington freedom march. "Some observers expressed the opinion afterwards that it was an unexpectedly light penalty," the story's second paragraph notes.
A few weeks later the New York Herald Tribune speculated that Zantzinger's sentence had deliberately been kept under a year to ensure that he went to county rather than state prison. The majority black population in Maryland's state jail, the paper guessed, would have ensured Zantzinger didn't survive long there. Whatever the reason, it was decided that he should serve his time at Washington County Jail, about 70 miles from Baltimore. A particularly diligent Afro reporter later discovered he'd been given work in the kitchens there. (24, 25)
The same Herald Tribune piece interviewed Zantzinger and Jane as he prepared to leave home to start his sentence. The paper found Zantzinger in arrogant mood, declaring that all he was going to miss out on during his winter incarceration was "a lot of snow". He also told the reporter that he had much more respect for some black people than for the "white niggers" he knew, and added: "Hell, you wouldn't want to go to school with Negroes any more than you would with French people". Stepping in to defend her husband's generosity, Jane said: "Nobody treats his niggers as well as Billy does around here." For some reason, she seemed to think that would be helpful.


Dylan returned to New York after the Washington rally, where he may well have seen the Times' August 29 report of Zantzinger's six-month sentence. By then, he was going out with folk singer Joan Baez , and at the end of September 1963. he flew out to Carmel Valley, California, to stay with her there. Baez was touring on the west coast at that time, and welcomed Dylan on stage for a guest spot at her October 9 Hollywood Bowl concert.
By specifying first degree murder, he implies Zantzinger killed in an act of deliberate malice
Contrary to the legend that Dylan wrote The Lonesome Death of Hattie Carroll at an all-night coffee shop in New York, he actually composed the song during his October stay with Baez. "He played the piano she bought him and set up his typewriter in a kitchen at a window overlooking the mountains," says Howard Sounes in his Dylan biography Down The Highway. "Each morning, he went straight to the typewriter and worked at it through the day. [...] During his stay in Carmel, Bob worked on pieces of extended Rimbaud-like verse, later published in a book he titled Tarantula. He also wrote one important song at this time: 'The Lonesome Death of Hattie Carroll'." (26)
There's nothing in Dylan's song that he couldn't have gleaned from a combination of Wood's account (which either he or Baez had presumably saved from Broadside) and the New York Times story. Unfortunately, Wood's story was a little too politically-committed to be a reliable source of the facts, and all Dylan took from the Times was the length of Zantzinger's sentence.
The crucial lines are the first six, where Dylan writes:

"William Zanzinger killed poor Hattie Carroll,
With a cane that he twirled round his diamond ring finger,
At a Baltimore hotel society gathering,
And the cops were called in and his weapon took from him,
As they rode him in custody down to the station,
And booked William Zanzinger for first degree murder." (27 )

Clinton Heylin calls Dylan's opening couplet here "a million dollar libel case waiting to happen", arguing that because it wasn't literally Zantzinger's blow with the cane that caused Carroll's death, he can't fairly be described as the killer. For my money, though, it's the sixth line - the alleged booking for "first degree murder" which really puts Dylan in the dock. (3 )
Judge McLaughlin's words as he pronounced Zantzinger's sentence confirm that Carroll's death was "caused or hastened by the defendant's verbal insults, coupled with an actual assault." If you've "caused or hastened" someone's death - by whatever means - then surely it's fair to say you've killed them. McLaughlin also confirms that the cane was relevant to Carroll's death, placing it on an equal footing with Zantzinger's verbal insults as a cause of death. Whether that's enough to justify the words "killed with a cane" or not is matter of personal taste, but they seem eminently defendable to me.
There's no evidence that Zantzinger really was wearing a diamond ring at the Emerson Hotel, and to the extent that the accusation tends to exaggerate his privileged position, I suppose you could argue that it's damaging to him. The underlying point, though, that Zantzinger was a great deal richer than the woman he killed, is irrefutably true, and the ring on its own is hardly a major point.
The next three lines present no problem either. Aside from the possible implication that it was the police who took Zantzinger's cane away from him, rather than Hal Whittaker, everything played out just as Dylan describes it.
So far, so good. But it's that sixth line which should have made Dylan nervous. Zantzinger was never booked for "first degree murder", merely for what The Afro called "murder generally". That's a charge which encompasses first degree murder, certainly, but which equally includes the possibility of second degree murder or manslaughter. As we've seen, when the police first learned of Carroll's death, their warrant allowed for all three of these possibilities, knowing it was not up to them to decide which conviction would eventually be pursued in court.
That's an important distinction, because specifying first degree murder, the most serious of the three charges, implies Zantzinger killed Carroll as an act of deliberate malice. Indeed, by mentioning no other charge before he details Zantzinger's six-month sentence, Dylan implies he was actually convicted of first-degree murder, rather than the far lesser charge of manslaughter, and that's a seriously damaging libel which the songwriter would have found difficult to defend in court.
Nor could Dylan have blamed Wood for his careless use of the term. The word "murder" is never used in Wood's story, and the reporter is careful to say merely that Carroll died "after" Zantzinger's attack. Wood's story contains several actionable errors of its own - not least the assertion that Zantzinger "rained blows on the head and back of Mrs Carroll" when in fact he'd hit her only once on the shoulder - but the "first degree murder" allegation is one of Dylan's own making.
Most of Dylan's next verse, which mentions Zantzinger's age, the size of his family farm, his parents' wealth and their social standing, is taken directly from the Broadside clipping, and all that's factual enough. Zantzinger may not have literally "reacted to his deed with a shrug of his shoulders", but the swearing, sneering and snarling which Dylan accuses him of seem perfectly consistent with the descriptions we have of his arrest. He was kept at the police station overnight rather than the "matter of minutes" Dylan mentions before walking out on bail, but perhaps that should be seen as a bit of songwriter's licence rather than a strict factual error.
Wood had called Carroll a waitress in his story, though The New York Times correctly described her as barmaid. Dylan goes with "maid of the kitchen", a demotion I suspect the real Carroll would have found mortifying. Like Wood, Dylan wrongly says that she had birthed ten children, when the real total was either 11 or 13.