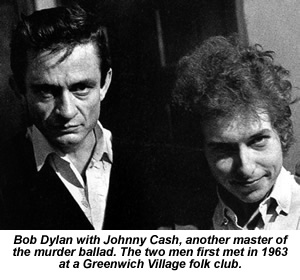 Judge Thomas was convinced enough by these arguments to send Zantzinger to the grand jury where, a few days later, he was formally indicted on a murder charge. A tentative date of March 28 was set for his criminal trail, but no-one seemed to think anything would really happen that soon. As the Afro pointed out, anyone facing a murder charge in Maryland was entitled to request a change of venue if they thought bad publicity or ill feeling would make it impossible for them to get a fair trial in their home jurisdiction. Baltimore's newspapers had been making hay with the Zantzinger story for over a month by that time, and he was thought almost certain to invoke this right.
At this point, the charge sheet against Zantzinger comprised one charge of murder, three of assault (one each against Carroll, Hill and Gessell) and one of disorderly conduct. Jane faced one charge of assaulting Officer Warren Todd and one of disorderly conduct, but her trial would remain in Baltimore.
In the middle of April, state prosecutor William O'Donnell confirmed that Zantzinger had succeeded in moving his trial out of Baltimore, and said Hagerstown in Western Maryland would be the replacement venue. His office had chosen Hagerstown, O'Donnell added, because it had court time open and local accommodation available. It remained to be seen whether the defence would ask for a jury trial or a court trial, where the verdict would be left to a panel of judges alone.
While all this was going on, Dylan was singing his latest songs on various New York radio stations and giving their lyrics to Broadside. The magazine's 20th issue, dated February 1963, gave its front page over to his Masters of War, illustrating the song with a couple of Suze Rotolo's scrawled drawings. Late February's Broadside 21 ran Dylan's The Rise & Fall of Hollis Brown, and the magazine's two March editions had John Brown and Train a-Travellin'. That last issue though - Broadside 23 - is less notable for the Dylan song on its front page than the Don West composition nestling within. (17)
Compared to the song Dylan would later write, West's effort is a plodding, awkward thing
West, a socialist campaigner and poet, had composed nine verses of polemic which he called The Ballad of Hattie Carroll, suggesting it be sung to the tune of Wayfaring Stranger. Compared to the song Dylan would write six months later, West's effort is a plodding, awkward thing, more concerned with parading its writer's conscience than adding any poetic resonance to the event. Here's a few sample verses to give you the flavour:

"A story of a brutal murder,
Done by a rich and powerful man,
Who beat to death a maid of colour,
With stylish cane held in his hand." (18)

Three verses later, he adds:

"The big man pounded on the table,
She hardly heard what he did say,
When Hattie went to get his order,
He took his cane and flailed away."

West then notes that Carroll's death has left us all with a pledge we should keep. He closes with:

"A pledge that we shall end such sadness,
Brought on by men of powerful name,
Nor ever forget this honest mother,
For we must end this awful shame!"

Zantzinger's criminal trial hadn't even been scheduled, let alone resolved, when this issue of Broadside was published. It wasn't certain at that point that he would face a murder charge at all, let alone be found guilty of the "brutal murder" which West attributes to him. And, although he doesn't name Zantzinger anywhere in the song, he does give Hattie Carroll's name in full, leaving no-one who'd read the papers in any doubt about who the song's killer must be.
Just to ram that point home, Broadside stuck a photocopied press clipping under West's lyric, which the story's text suggests was first published within a week of Carroll's death. The headline reads "Rich Brute Slays Negro Mother of 10", and the story's by-lined to Roy H Wood in Baltimore.
This seems to be the same Roy H Wood who'd been secretary of the District of Columbia's Communist Party when he wrote to the Washington Post campaigning for local black families back in 1949. Washington, which Wood gave as his address in another Post letter that year, is just 40 miles south-west of Baltimore, and the two cities merged into a single metropolitan area long before 1963. Records at the Harvard College Library show Wood was also called before Joe McCarthy's Committee on Un-American Activities in December 1950, where he was forced to testify on "Communism in the District of Columbia". Wood's answers to the committee give his date of birth as November 1914 - making him 48 years old when the "Rich Brute" story was written - and mention that he spent about ten years living in Baltimore. (19, 20)
Broadside doesn't date the "Rich Brute" clipping or identify the paper it comes from, but the typefaces and style conventions it uses match those in The Afro-American perfectly. Wood's also given the latitude to inject a greater sense of outrage into his prose than you'd normally find on the news pages, which would fit with it running in Baltimore's leading black newspaper so soon after this traumatic killing in the city.
"Mrs Hattie Carroll, 51, Negro waitress at the Emerson Hotel, died last week as the result of a brutal beating by a wealthy socialite during the exclusive Spinsters' Ball at that hotel," Wood begins. "She died in the hospital where she had been taken after being felled from blows inflicted by William Devereux Zantzinger, 24, owner of a 600-acre tobacco farm near Marlsboro, Md. Mrs Carroll was one of two waitresses whom Zantzinger struck with a wooden cane at the society affair." (18)
Later in the story, Wood says of Zantzinger: "He strolled to the bar and rained blows on the head and back of Mrs Carroll who was working there. The cane was broken in three pieces."
Other employees called the police, Wood reports, then adds: "Zantzinger's father is a member of the state planning commission in Maryland. Others of his relatives in the Devereux family are prominent in politics here. The judge who released Zantzinger on bond has already permitted his attorney to claim that Mrs Carroll died indirectly as a result of the attack rather than directly. There is speculation here that attempts will be made to get Zantzinger off with a slap on the wrist."
Wood is clearly angry about the way Carroll was treated, and wants to make sure his readers get angry too. He takes every chance to paint Zantzinger as a rich, spoilt thug - not an unreasonable view based on his behaviour that night - but goes a little too far in how he describes the attack itself.
All the court evidence describes a single blow to Carroll's right shoulder rather than the many blows on her head and back which Wood reports. Is he indulging in a bit of clever juxtaposition when he implies Zantzinger actually broke his cane on Carroll's back, or simply unaware of Hal Whittaker's intervention? He clearly wants us to think the judge was corrupt in "allowing" Zantzinger's attorney to argue Carroll's death had not been caused directly by the blow, but given the woman's known medical history, it's hard to see that the judge had any other choice.