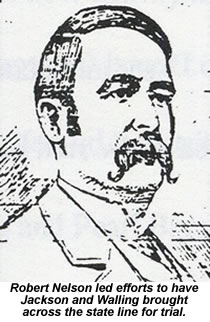 Cincinnati stalled the process of arranging Jackson and Walling's requisition hearing as long as possible, hoping that time would help to cool tempers across the state line. "Mob violence was feared," Barclay writes. "And this fact more than any other caused the delay in the hearing of the arguments on the requistion papers. It was feared the lives of the prisoners would be placed in serious jeopardy if they were sent to Kentucky before the excitement had in some measure died out."
As February came to an end, the issue could be put off no longer and police prepared to take Jackson and Walling from Hamilton County Jail to the nearby courthouse so a date could be fixed for the hearing itself. Even this short trip - a few streets at most - meant they had to worry what might happen if the two men appeared in public and the crowds got out of control. Fortunately, the jail's original planners had foreseen that situations like this would sometimes arise, and ensured the builders dug an underground tunnel running directly from the jail to Hamilton County's courthouse.
Even so, the move would not be a simple matter. "Rumours of all kinds prevailed, and squadrons of police were placed in line, guarding closely every inch of the way from the jail to the courtroom," Barclay reports. "The tunnel was cleared of every obstacle, but when all was in readiness, it was discovered that the key to the massive gate at the entrance to the tunnel from the jail yard had been misplaced, and could not be found."
Police were forced to take Jackson and Walling through the streets instead, and this seems to have been accomplished without too much fuss. The full hearing was set for March 7, and they were returned to their cells.
Colonel Robert Nelson, who had a reputation as one of Kentucky's most able and agresssive prosecutors, volunteered his services to help ensure that Jackson and Walling were not only tried in the state but successfully convicted there. I don't know whether he was proposing to work for free, but if so he'd presumably concluded that such a high-profile case would do his career no harm. He certainly took the opportunity to grab a bit of free publicity from his offer, telling reporters Jackson and Walling were "villains of the deepest dye" who were "guilty of the most heinous crime ever put upon the fair name and fame of Kentucky".
'It was feared the lives of the two men would be placed in jeopardy if they went to Kentucky.'
Meanwhile, people all over Cincinnati were still gossiping about the case. One of Pearl's brothers heard rumours that a black man had been seen leaving some of her effects at a house on East Sixth Street in Newport. According to him, this man had then left town, taking a train to Greencastle on the morning Pearl's body was discovered. Crim and McDermott investigated the lead, but could find no such house at the address they were given. At least two people came forward saying they'd seen Pearl at a hostel on Cincinnati's Elm Street, but this too proved impossible to confirm.
At about 1:00am on March 6, a Sergeant Clawson opened his police patrol box at the corner of Eighth and Baymiller in Cincinnati to discover a note for Deitsch poked inside. "Jackson and Walling cut off Pearl Bryan's head and buried it in the Dayton sandbar," the note read. "When the time comes, I will tell all. I was in hiding at the time, and followed these fellows to where they buried the head." The note was signed "F.A.M", and gave a Post Office box number for any replies the police may care to send.
Any murder that gets as much ink as Pearl's uncovers its fair share of nutcases among the general public, and there's no evidence the police took this note at all seriously. A few days later, another time-waster claimed he'd seen Pearl and Walling together on a train from Indianapolis to Cincinnati on January 30, but then proved unable to identify Walling when police placed the man two feet in front of him.
With still no sign of Pearl's head, the papers were beginning to lose patience. "The oft-repeated assertion that Jackson and Walling are gradually breaking down does not seem to have much foundation in fact," the CE thundered on March 6. "Both are growing stouter and healthier, and each day finds their nerves steadier. All hope of getting any confession from the prisoners has gone glimmering. Acting under the advice of their attorneys, they will not talk at all about the murders.
"Jackson's greatest anxiety seems to be to learn each day what new evidence has developed against him. His first question addressed to the newspaper man who approaches him is: 'What's new today?' Not so very long ago, the thought of going to Kentucky seemed to worry both the men. Now, however, they are indifferent about the matter, and say they do not care whether they are taken over the river or not."
March 7 was a Saturday - not the most obvious day of the week to hold a requisition hearing - and it was hoped this choice of date would help to wrong-foot the riotous spectators who might otherwise turn up. As an additional precaution, the court refused to say what time the hearing would begin. "In order to avoid any undue crush, it has been decided that no-one shall be admitted to the courtroom who has not a clear right to be there," the CE warned. (33)
Everyone expected Kentucky to win at the hearing, and that morning's papers were full of speculation about what would happen next. The prevailing theory was that Sheriff Plummer hoped to drive the prisoners across the state line at breakneck speed as soon as the hearing finished. This was confirmed when the CE later reported that Kentucky had placed a six-seater carriage outside the courthouse, with two speedy horses, an experienced driver and at least one detective waiting inside.