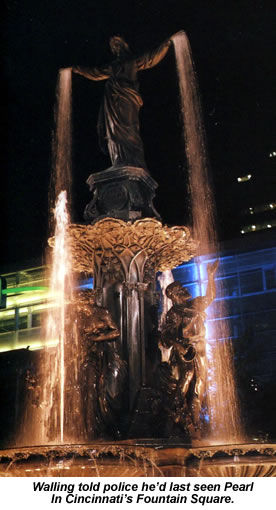 According to Walling, he first heard that Pearl was pregnant on Christmas Day 1895. "Jackson took me into a corner of the room and told me that he and Billy Wood had got Pearl into trouble, and that he must get rid of her," he told police. "He suggested two ways in which it might be done. One of the plans he suggested was to take her to a room, kill her there and leave her. Then he spoke up suddenly and said 'No, I will instead cut her to pieces and drop the pieces in different vaults around town'."
A few days later, Walling added, he and Jackson had been drinking at Wallingford's when Jackson asked the other medical students there which poison would kill a person the quickest. They replied that hydrocyanic acid or prussic acid would be quickest of all, but that a large dose of cocaine wasn't far behind. "Jackson would sit in our room and read a medical dictionary to learn all about poisons," Walling said. "He finally selected cocaine." The drug was then a legal remedy, so Jackson was able to buy all he needed at Koeble's, the neighbourhood pharmacy.
"Did you know where he was going to take her?" Deitsch asked.
"Yes. He said he was going to take her to Fort Thomas."
The next development came towards the end of January, when Jackson asked Walling if he would help the girl out of trouble. "I said I would," Walling admitted. "Last Monday night, he told me the girl would be here that night. The next day, Jackson told me the girl was at the Indiana House hotel, and asked me to go down there. I went with him, and he went to her room while I waited downstairs. The next day, he told me he had an engagement with the girl at Fourth and Plum Streets, and for me to go there and tell her he would meet her in the evening. [.] I think he went to see the girl at Wallingford's saloon. I was there, but I did not go into the back room where she was."
The trousers police found in Jackson's locker were muddy at the knees and flecked with blood
Walling claimed he hadn't seen Pearl again until the night of her murder. "I was in Heider's Restaurant eating my supper," he said. "Jackson called me out and told me to go to Fountain Square and wait with the girl until he came back. He said he would not be gone over 10 or 15 minutes. He came back, and I left. I believe he went to the room and got the hypodermic syringe and the poison."
According to Walling, Jackson and Pearl rode off towards the bridge in a cab together, leaving him behind in Fountain Square. That account conveniently left him out of the murder itself, but much of the rest of it rang true.
Walling told police that Jackson had prepared a solution with four grains of cocaine in 16 drops of water, a dosage which matched that later found in Pearl's stomach. Jackson hoped this would paralyse her vocal cords. "She would be unable to scream or talk, and then he was going to cut her head off," Walling said.
"Do you think he did that?"
"Yes, I am almost sure that was the way he killed her. I don't know how he gave her the poison, but I think she took it before getting into the cab, so it would have its full effect before she was driven over to Fort Thomas."
"What do you think he did with the head?"
"In my opinion, he buried it in this neighbourhood."
"What makes you think so?"
"Well, last Monday I was standing on Ninth and Plum, and Jackson came along. He had a valise, and asked me to go with him. I told him I didn't care to, and he left. He had the same valise which is now in the possession of the police with the bloodstains in it."
Challenged to produce some physical evidence that supported his story, Walling sent the police to a sewer at the corner of John and Richmond streets, where he admitted he'd disposed of Jackson's jacket for him. Detective Witte went to that corner, where he dug a bundle wrapped in newspaper from the sewer mud and found a blue-black jacket inside, which matched the clothes worn by Jackson when he was arrested. There were blood spots on the sleeves and, stuffed inside the pockets, three lady's handkerchiefs which Pearl's family later identified as hers. Also in the pockets, Witte found traces of tansy flower, a herb whose tea was known to produce miscarriages. A wider search of the city's sewers produced a bundle of Pearl's clothes, weighted down with a piece if old railway iron, which Jackson later admitted he'd dumped there. This was one of five such bundles which he and Walling had pushed into the sewers or dropped in the Ohio River.
Police also searched the two men's personal lockers at the dental college, where they found a pair of Jackson's trousers. These were muddy at the knees and flecked with blood down the legs. Lab tests showed the mud on these trousers, on the jacket, and inside the tan leather valise all matched that at the murder scene. The leaves found inside the bag were privet, which grew in great profusion there.
The mud analysis was carried out by a firm of chemists called Dickore and Morgan, whose results were later leaked to the CE. "The mud found on the knees of Jackson's pants, which were taken from Walling's locker by police, has been shown to be the same as the soil at the spot where Pearl Bryan's body was found," the paper confirmed. "This shows that whoever wore those pants knelt at that particular spot when the ground was soft and sticky from rain, probably on the night of the murder, as it rained then. The question to be settled is: who wore the pants on the night of Friday, January 31? Jackson says that he did not." (16)
Some other accounts say the trousers were found in Jackson's own locker, not Walling's, but Barclay's transcripts are clear that Jackson admitted he owned them. His story was that Walling must have borrowed the trousers without permission, and gotten them dirty while he - not Jackson - was slitting Pearl's throat. He admitted to buying the cocaine, but said he'd done so only at Walling's request, and handed the drug over to him straight afterwards. Walling denied both these assertions.