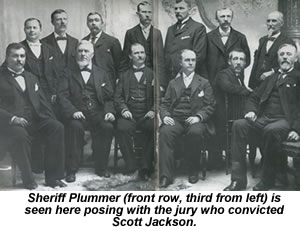 Jackson and Walling were formally arraigned for Pearl's murder at Campbell County's Circuit Court in Newport on March 23. Just like their requisition hearing, this was an event everyone wanted to see for themselves, and anyone with strings worth pulling in town angled desperately for one of the 300 official tickets. All but about 20 of these tickets went to men, and only the four seats reserved for the prisoners and their guards were left empty when proceedings began at 9:30am.
Judge Charles Helm cleared about 15 minutes worth of routine business and then called for Jackson and Walling to be brought in. Each man had a leading member of the Kentucky bar to look after his interests, with Leonard Crawford representing Jackson and Colonel George Washington speaking for Walling.
Reporters on the scene thought Jackson and Walling seemed pale as they entered the room, but rather less haggard than they'd been at the requisition hearing. "They both looked well, and gave evidence that they enjoyed their Kentucky fare," Barclay says. "Walling retained his paleness throughout the proceedings, but Jackson, after taking his seat and looking over the assembled crowd, flushed up a little."
Both men, speaking through their attorneys, entered a plea of not guilty, which meant prosecutors would be forced to prove the case against them in court. Helm asked each attorney whether his client wanted a separate trial or a joint one, and Crawford said he didn't want to make that decision just yet. Washington settled the matter by asking immediately for Walling to be tried on his own, and Helm agreed.
It wasn't easy to find 12 Newport jurors not already convinced that Jackson was guilty
Helm set Jackson's trial to begin on April 7, prompting protests from Crawford that this would not give him enough time to prepare his client's defence. Helm brushed these objections aside. In the event, the April 7 court date was used only to clear a few procedural matters arising from Jackson's case, and his trial proper didn't start till April 21. Much of that extra two weeks was taken up by the court's efforts to find 12 Newport jurors who didn't already feel convinced that Jackson was guilty. The final jury was made up of local merchants and tradesmen, including four grocers, two carpenters, a plumber and a man who ran his own coal yard.
The understanding from Helm's ruling was that Walling's trial would start as soon as Jackson's was done. Rumours flew that Walling had demanded a separate trial because he might be willing to turn state's evidence against Jackson if prosecutors reduced his own charges in return. If so, the deal seems to have fallen through.
A crowd gathered outside Newport's courthouse when April 21 came round but most people knew they had no hope of getting inside. Many of the tickets available had been grabbed by Campbell County's own lawyers and their friends, who were as keen to watch Jackson being tried as anyone else. Local politicians used their own access to ensure relatives got into the viewing gallery or to buy future favours from the county's most powerful men. Refined spectators like these were thought less likely to cause trouble in court, so this arrangement suited the authorities too. Everyone else would have to rely on dispatches from the six reporters' tables grouped closely round the witness stand.
The prosecution team on the day was: M. R. Lockhart, Kentucky's Commonwealth Attorney; Ramsay Washington, the County Attorney; Robert Nelson, the show-boating lawyer who'd helped win the requisition hearing; and Silas Hayes, a Greencastle lawyer representing the Bryan family. Once again, it was Judge Helm on the bench.
Jackson's defence was again led by Leonard Crawford, who at the age of just 37 already had one nomination as Kentucky's Attorney General under his belt. Doran calls him "one of the most successful practitioners of the Campbell County bar". Walling was allowed to have George Washington in court to challenge any lies that Jackson might tell about him there. The Ramsay Washington on Jackson's prosecution team was George's son.
Reporters wandered through the crowds outside the courthouse gathering comments as everyone waited for Jackson to arrive. Many murderers of the day won a perverse sympathy from crowds like these, but not Jackson. "Nothing but deep-seated and virulent hostility was manifested by 99 out of every 100 of those who gathered about the courthouse," Barclay reports. "'He'll hang and he ought to - damn him!' said one fellow at the centre of a listening group. 'Yes, and Walling ought to follow him in five minutes!' said a bare-headed working woman, as she shifted a baby from arm to arm. The same sullen antipathy was apparent as Jackson passed through the crowd. It was indisputably general."
Jackson himself seemed unmoved, showing far less fear of this Newport crowd than for the ones he'd confronted at the jail there or outside his arraignment hearing. He walked into the court beside Crawford with what Barclay calls "a nervous smile and a forced jauntiness". He was seated left of the witness box, slightly towards its rear, where reporters watched him listening carefully to everything said.
Lockhart began his case for the prosecution by referring to a sensational 1886 novel which would still have been fresh in the jury's minds. "We will show that this man has been a veritable Dr Jekyll and Mr Hyde," he promised. "We will show you that this fellow led a double life. Up in Greencastle, he was a gentleman, but in Cincinnati he was in society of ill repute.
"We will show that, a week or two before the crime was committed, he displayed a fine dissecting knife, and that he was experienced in the use of a knife that could have done that kind of work. We will show that, after blasting her life, he deliberately enticed this girl from her country home and then, taking her to Fort Thomas, cut off her head while she struggled against the monster." (39)