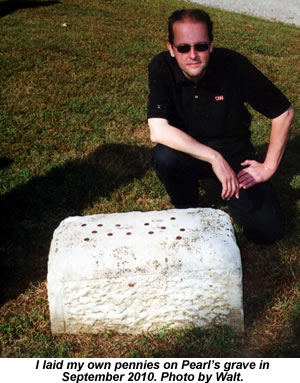 Jackson and Walling's execution was the last judicial hanging Campbell County would ever see, and you might have expected it to draw a line under Pearl's story as well. But even with all three of the principal players now dead, the case itself refused to lie down.
The first sign of this grisly afterlife came in June 1905, when Paul Millikin, the Cincinnati police chief who'd succeeded Deitsch, received a letter from Phoenix, Arizona. It was signed only "One who knows", and read: "You can find the head of Pearl Bryan, preserved in a jar of alcohol, walled up behind the grate in the room Alonzo Walling and Scott Jackson occupied on the night before the murder. The head was brought over from Fort Thomas and concealed there." (53)
Millikin dismissed the letter as a hoax, and told reporters he had no plans to investigate its claims. The owner of the old boarding house at 222 West Ninth Street, a Dr Haerr, told the CE that he'd had all the building's flues cleaned out just a week before the letter arrived and that, in any case, the walls there were not thick enough to conceal a jar that size. He refused to give permission for a hole to be knocked in the wall of Jackson and Walling's old room to let people peer inside.
The good folk of Cincinnati weren't going to let either Millikin or Haerr get away with that, and public clamour soon forced both men to change their minds. Writing his Cincinnatus column for the CP nearly 50 years later, the paper's veteran journalist Alfred Segal recalled being assigned as a young reporter to investigate what sound like exactly the same reports. "[I] accompanied the police to a house on West Ninth Street, to the front room fireplace where, it was reported to them, Pearl Bryan's head was embedded," he writes. "Jackson and Walling had been roomers in that house. The police dug into the fireplace with pick axes. No head." (54)
Three years later, in August 1908, Pearl's murder was making news again, this time thanks to someone discovering a bundle of Jackson's old letters in a discarded desk at Cincinnati's City Hospital. Many of these were from Jackson's mother, mixing simple love for her son with a little gentle chiding at how much money he seemed to get through. The newspapers preferred to spotlight the bundle's love letters to Jackson from Blanche and Mayre, which I've already quoted above, and hinted gleefully that they'd found other correspondence there which was far too saucy to print.
All this time, the ballad's early versions were helping to keep Pearl's name alive
The reputation Cal Crim had made for himself in Pearl's case won him a promotion to chief of detectives in 1912, and he quit the force two years later. In 1917, he set up his own private detective agency, where Jack McDermott soon joined him. It was also in 1917 that Sheriff Jule Plummer died from injuries sustained in a car crash while driving a prisoner from Newport to Ludlow railway station for transportation on to the state pen.
Twenty years had now passed since Jackson and Walling were hanged, and yet visitors still flooded out to John Lock's orchard to get a look at the murder scene for themselves. Newspaper reports from 1917 say 20 people a day were still trekking out there, paying a dime each to see his collection of gruesome pictures. According to figures gathered by Bernie Spencer of the Northern Kentucky Views website, about one in 25 visitors signed Lock's guestbook too, giving him a collection of some 50,000 signatures in his first two decades of business. "By that math, there were 1,250,000 morbid sightseers in the 20-year period," Spencer writes. (55)
All this time, the ballad's early versions were helping to keep Pearl's name in circulation. In November 1913, a New Jersey woman called Mrs Newall gave her sister, Mrs Henry, a written copy of what Cohen calls Pearl Bryan VI. Mrs Newall had been given the document - possibly a broadsheet - by her daughter, Marjorie White, who received it, in turn, from her friend Maud Clark's sister "who lived out that way where it happened". Mrs Henry completed the chain by forwarding a copy to the Journal of American Folklore.
The text they received contains many of the same verses Dalhart uses, but adds several fresh details from the reports of Jackson's trial. These include his chosen weapon and the forged letter he urged Wood to write:

It was Scott Jackson and Walling,
That took Pearl Bryan's life,
On that dark and stormy night,
With a big dissecting knife.

[...]

Scott Jackson wrote a letter,
To Willie Wood one day,
Told him to write another,
To Pearl Bryan's home and say,

'I'm not in Indianapolis',
And sign her name you may,
Stick to your old chum Bill,
And I'll stick to you some day.

This particular take on Pearl's story seems to have died out pretty quickly. Cohen thinks this is because it places Jackson rather than Pearl at the centre of events, and therefore veers away from the "murdered girl" template which people prefer this particular story to use. The fact that it quotes so directly from 1896 newspaper reports suggests it's certainly one of the earliest Pearl Bryan ballads, though, and it may even pre-date the one Oscar Parks learnt in childhood.
In March 1920, West Virginia's state historian Clifford Meyers responded to a Pearl Bryan query from Professor John Cox, then researching his 1925 book Folk Songs of the South. "The song was very popular for a few years after the punishment of the criminals," Meyers told him. "I remember hearing it many times, and in it was a couplet which ran: "Oh Pearl Bryan, she's dead / They can't find her head". (56)