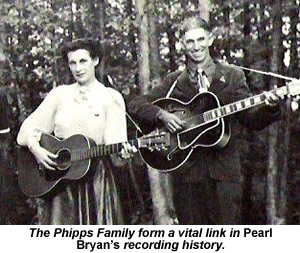 Meyers has in mind here Cohen's Pearl Bryan V, most famously recorded by The Phipps Family in 1965. The giveaway is its distinctive chorus, which the Phipps give to Pearl's mother:

Please tell me where's her head,
Please tell me where's her head,
Pearl Bryan is dead,
Can't find her head,
Walling and Jackson are hung. (57)


The rest of this version's nine stanzas are very similar to the Vernon Dalhart lyrics we've already discussed, using almost exactly the same words to canter through the warning to young girls, the month of the killing, the names of the murderers and the driver's role as witness. Where other Pearl Bryan ballads prefer to minimise the decapitation, however, this one delights in placing it front and centre:

The message brought back to her home,
That poor Pearl Bryan was dead,
Killed by Walling and Jackson,
And they took away her head.

It's the Phipps Family recording that inspired The Crooked Jades, a San Francisco bluegrass band, to tackle Pearl's ballad for their 2001 album Seven Sisters: A Kentucky Portrait. Jades frontman Jeff Kazor was already familiar with Burnett and Rutherford's 1928 recording of a Jealous Lover variant with Pearl's name inserted into its lyrics, but had never been particularly moved by it.
"Their singing style and lyrics didn't spark my interest," Kazor told me when I questioned him about the song earlier this year. "But when my research finally led me to the Kentucky-born Phipps Family and their 1965 Folkways recording, it blew me away! I knew right there and then this ballad could work in The Crooked Jades' repetoire.
'Today, Pearl Bryan has resurfaced in our set, giving a face to just what man is capable of.'
"The Phipps Family's approach to the gruesome event made more sense, with more perspective from the victim's family. I could imagine Pearl Bryan's mother singing that heart-wrenching refrain: 'Please tell me where's her head'. It was the thought of Walling and Jackson severing her head to conceal her identity. Later, I learned that Scott Jackson was the father of Pearl Bryan's unborn child - wow.
"We played this ballad live quite often after Seven Sisters: A Kentucky Portrait was first released. It was well-received, and audiences were always very curious to know its background, especially to understand whether it was a true story. Today, it's resurfaced in our set, giving a face to what man is capable of."
The fact that The Phipps Family disc takes several verses almost intact from Vernon Dalhart's rendition, and then passes those verses on to the Jades, gives us an unbroken chain from the song's very first recording to its use today. If we were to draw up a family tree for the song's studio history, one branch would begin with Dalhart's 1926 version and the other with Charlie Poole's Jealous Lover variant a year later. The Dalhart branch sprouted its most significant outgrowth with the Phipps Family record of 1965, and that's the song Kazor's band still plays today.
If you allow for the odd floating verse or a line that's been tweaked in its wording, just about every Pearl Bryan record that's followed can be traced back to one of these three blueprints. My own modest collection, for example, comprises two versions drawn from the Charlie Poole model, four from Vernon Dalhart's and two from the Phipps.
A year after the Charlie Poole record came out, the CE's Harry Pence was still getting letters from readers asking him to remind them about the details of Pearl's case. "No month has gone by in which someone does not write in to have his or her memory refreshed," he wrote in the paper's October 15, 1928, edition. "These letters come from all parts of the country."
Pence used the column that day to tell Pearl's story all over again, just as Joe Doran would do with his 11-part series for the CP 18 months later. A few weeks before Doran's series began, someone had offered to sell the CP a letter purporting to be Scott Jackson's "last true confession". The paper dismissed it as an obvious forgery, but they were getting Pearl Bryan queries every week too, and could see just what a grip her story still had on the city's dreamtime. Doran was given all the space he needed to tell the story in feature-length daily installments, which the CP started running on April 26, 1930.
Told to provide some artwork to label the series, the CP's designer came up with a silhouette of Cincinnati's skyline, with a cut-out of Pearl's head pasted in its foreground and the single word: MISSING. Doran stressed this angle too, ending all but one of his 11 installments with a reminder the head had never been found.
He wrapped the series up with an annecdote about the case's continuing appeal. "Miss Ruth Neely, a CP writer, was recently riding to Fort Thomas on a streetcar," he writes. "As it passed a small byway, a woman beside her asked: 'Is that where Pearl Bryan was murdered?' Miss Neely replied in the negative. 'Well, will you please tell me where to get off so I can see it? I'm on my vacation, and I always wanted to see where her body was found. I came all the way from Cleveland to look at it'."


The first sheet music for Pearl Bryan I've been able to find dates from 1935, and credits its arrangement to Nick Manoloff, who also has his name on that year's Jingle Bells sheet.
Manoloff makes no claim to the Pearl Bryan sheet's lyrics, which he leaves uncredited. That's just as well, as they're very similar to the Vernon Dalhart version we've already seen. Unlike Dalhart, Manoloff tags on the two optional warning verses adressed directly to any young women who might be listening.
In this incarnation, though, the lyrics are most notable for the fact that they give no hint of Pearl having her head chopped off. Manoloff hoped to sell the sheet music to respectable families who would sing it round the piano in their front room, and any reference to decapitation would not have helped his prospects there. The warning verses, on the other hand, added a nice little moral coda which even the starchiest parents could not object to.