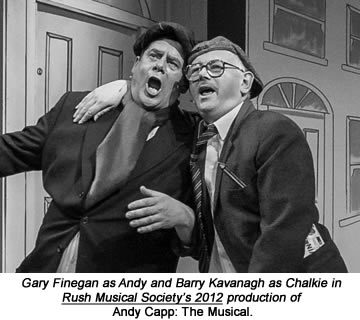 There's more evidence here of how firmly Smythe had based Andy's tastes on his own. Andy may have lacked his creator's work ethic, and Smythe preferred gin and tonics to Andy's pints, but both men were happiest when left in peace to pursue their own enjoyable routines. "Andy just wants an easy life, doesn't he?" says Goldsmith. "He just wants to be left with his pigeons, his beer, his football, his snooker, and he'd be quite happy."
"He doesn't make long journeys," Hiley adds: "He meets the same group of people, and he's very happy within that small group. He doesn't have a boss. He does what he wants. He has a rhythm in his day, but it's set by himself ." Smythe ensured his own life worked in much the same way and, just like Andy, he seemed to be all the happier for it.


The 1970s saw a fad for stage musicals based on newspaper cartoon strips, with both the Peanuts show and Little Orphan Annie enjoying long runs in London and New York. Mirror executives began wondering if Andy might be able to pull off the same trick.
Their plans got rolling when Mirror editor Mike Molloy happened to meet the musician Alan Price while on a trip to New York. Price, who'd played keyboards in The Animals' first and greatest line-up, now had a very successful career writing his own chart hits and film scores. He'd been wondering if it might be fun to tackle a musical next, and as soon as he let this fact slip, Molloy pounced. Why not build a musical round Andy?
The beauty of this idea was that Price had grown up in Newcastle, which lies just 25 miles north of Hartlepool, so both he and Molloy knew he could portray that part of the world well. Back in England, they pitched the idea of an Andy Capp musical to Smythe, and it was Price's local links which helped to win him over. Trevor Peacock signed up with the project as its writer, and struck up an immediate rapport with Smythe.
Peacock had written and acted in plays at Manchester's Royal Exchange Theatre, and also made a name for himself as a songwriter for the likes of Joe Brown and Adam Faith. His biggest hit came with Herman's Hermits, who made Peacock's Mrs Brown You've Got a Lovely Daughter a US Number One in May 1965.
It was agreed that Price would write the music for the new show, both he and Peacock would contribute lyrics, and Peacock alone would write the plot and dialogue that tied all the songs together. Smythe was there to act as a consultant and make sure nothing crept through that distorted the strip's world beyond all recognition. "Mostly I told them what Andy wouldn't do," he tells Lilley.
Critics sometimes tutted at Andy's habits, but granted that the show was hugely entertaining
Staring at a blank sheet of paper, Peacock decided that his first problem was the nature of Andy's strip itself. All the successful comic strip musicals of the past 30 years - Li'l Abner, Superman, Peanuts, Little Orphan Annie - has been based on strips with a continuing storyline carrying readers forward from one day to the next. Andy, on the other hand, was a series of very short stand-alone gags, with only the cast of characters and the setting to link them together.
The Mirror had sent Peacock a handful of Andy Capp annuals to help his research, so he ploughed through these, tearing out the strips which he thought showed the essence of Andy's world and pasting them up on the walls all around his desk. "I kept looking at them to see how I could make the thing come to life," he tells Lilly.
"I had to invent a plot, so I introduced a young couple who were getting married. Then, because Andy is always so bossy with Florrie, I created another family in which the man is completely under the thumb of the woman. I seem to remember it was Andy's nephew who was the boy. He was called Elvis Horsepole, and he was marrying the daughter of this other family in which the mother was on top."
Meanwhile, Price was busy composing songs for the show. The 21 numbers finally selected include titles like I Ought To Be Ashamed of Myself, Good Old Legs, The Trouble With People and Oh Gawd, Men...Beasts! Tom Courtenay, another Northern lad, agreed to play Andy, and Price himself kept everything moving along as an on-stage narrator at the piano. The set was decorated with a selection of stories torn from the Mirror, all blown up to enormous size and pasted into a gigantic collage to form the stage backdrop.
The tone Price and Peacock aimed for was broad and jaunty, and judging by The Guide To Musical Theatre, they hit it square on. "It is a faithful evocation of the cartoon," the guide says of their show. "Full of mother-in-law jokes, drunken escapades, big-bosomed, mini-skirted women wielding rolling pins and paunchy, cloth-capped men stomping about in boots." (72)
Andy Capp: The Musical opened at Manchester's Royal Exchange Theatre in June 1982, enjoyed a successful two-month run there, and was given a transfer to The Aldwych in London's West End that September. Critics were generally positive, sometimes tutting at Andy's habits, but granting that the show was hugely entertaining.
The New Statesman described it as "anecdotal, larky fun," and the Daily Telegraph called it "an innocent, warm-hearted, gutsy frolic". Bhob Stewart, writing in The Comics Journal, noted that Courtenay couldn't really sing, but that this problem had been solved by having him "sing-speak" the lyrics, much as Rex Harrison had done in My Fair Lady. (72, 73)
Jack Tinker of the Daily Mail gave the show a review which sums up its overall reception pretty well. It offered, he said, "a fat slice of accessible folk history which audiences can immediately relate to, and sends you out with a warm satisfied glow and a lot to think about." (74)
A little further on, he lists the same stereotypes which The Guide To Musical Theatre mentions, and frets a little over whether Andy's world is one where he or the Mail's gentle readers would really wish to live. But then he relents: "Alan Price's very first song puts any such lofty thoughts to flight, reminding us that, in Andy Capp country, 30 out of every 100 are unemployed. Morality is for those who can afford it - a social comment never far below the surface of a production which deliberately keeps reality at bay."
Looking back on the show for Lilley's book, Peacock remembers two particular highlights. The first was the moment when one of Andy's pigeons had just won a race. "We used to release a pigeon up at the back of the circle, and it would fly right down over the audience and land in Andy's hands," he says. "The audience loved it.
"The second high point involved the hen-pecked dad of the bride-to-be, who cashes in his life savings to pay for the wedding. He takes all this money, goes to the pub and says, "I just want to say two things. The first is, I want to say BOLLOCKS to my wife. The theatre used to erupt. Audiences went mad. [...] I thought to myself, this must be the essence of it - the male/female thing."
Smythe remembers the show as running for six or seven months at The Aldwych, which was respectable enough but nowhere near Little Orphan Annie's class. It picked up two Olivier nominations - one for Val McLane's portrayal of Flo - but won neither category. (75)
"It was quite successful, considering," Smythe says of the show. "But the musical was very different from the cartoon. Other people don't see Andy the way I see him. I see him as a belligerent but naturally perky sort of little bloke. They made him a bit flat-footed. Andy is sharp." (76)
But others saw exactly that intelligence in Courtenay's Andy which Smythe felt had been missing. "It is easy to see how he became captain of the darts team, demon of the soccer side and philosopher of any bar," Tinker says of the performance. "His pot belly may denote the body of a sloth, but his dancing eyes reveal the mind of a wit at bay in a cruel, harsh world."
The musical went back up north in September 1984 for a month's run at Newcastle Playhouse, where Auf Wiedersehen Pet's Tim Healy played Andy. Its next stop was Finland where, according to the BCA website, it proved a big hit. It's still revived pretty regularly today, most recently by the Great Barr Musical Theatre Company's Birmingham production of 2006, and Rush Musical Society's County Dublin run earlier this year.
"Andy Capp was one of the first musicals staged by Rush Musical Society 22 years ago," the company's Helen Kavanagh told me. "Although he's so politically incorrect, we thought reviving it would give the audience a good laugh. We liked the idea of a cartoon set and props, and the script is so clever and outrageously funny. Everyone knows at least one Andy." (11)
The Rush production played to about 1,000 people altogether during it's nine nights at the tiny 140-seat theatre. The company kept Andy as a Hartlepool resident with his Geordie accent in place, and refused to pander to lily-livered modern sensibilities.
"Andy and Flo have a big noisy bust-up at the end of Act 1," Kavanagh says. "Nothing physical, but very verbal. Andy has a fag hanging out of his mouth for most of the show. He gets drunk after the first bar scene, and Good Old Legs is sung by a very drunk Andy and Chalkie. The audience of all ages loved it.
"We removed nothing, and I don't think Andy caused any offence - apart from him telling Flo she was as ugly as a crow, which made him look really bad. He had to crawl back from that one."


One of the thousands who saw Andy's musical at The Aldwych was Jimmy Gilbert. As BBC Television's Head of Comedy from 1973 to 1977, he'd helped produce a stream of massive hits, including The Two Ronnies, Last of The Summer Wine and Open All Hours. He'd since moved on to a big job at Thames Television, which held the London franchise in Britain's commercial ITV network.
As Gilbert watched Courtenay, McLane and the rest taking their bows on the Aldwych stage, he began wondering if Andy might have a sitcom in him. "I thought there was basically a good idea there," he tells Lilley.
The first thing he needed to get this idea off the ground was someone to write Andy's pilot script. The ideal candidate would be someone who understood the North of England's gruffly sceptical humour, knew how to get those jokes down on paper, and had plenty of experience writing for film and TV. If he happened to be familiar with Andy's core audience of loyal Mirror readers, then so much the better.