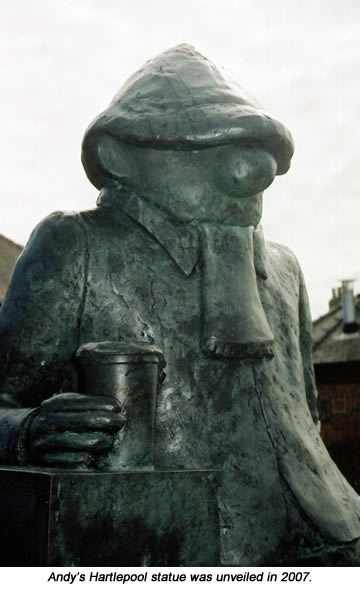 The funeral at Stranton Grange Crematorium Chapel produced tributes from Hartlepool United, former Mirror editor David Banks and Labour's Peter Mandelson, who'd been a Hartlepool MP since 1992. It's not clear from the reports whether Piers Morgan attended the funeral in person or whether he simply sent a wreath, but we do have his final comment on Smythe: "His creation will live on".
"Yes it will, mate," the cartoonist might have replied. "But no thanks to you."


By the time Smythe died, he'd built up his stockpile of unused Andy strips still further, giving the Mirror a store big enough to keep the feature running for over two years. That bought Ken Layson some time, and he was determined to use it well. He had a keen respect for Andy's heritage as a classic UK strip, and refused to let it die without a fight.
Layson approached Roger Kettle, who was already writing A Man Called Horace for the Mirror's strips page and asked him if he'd be interested in taking over the writing on Andy's strip too. Kettle had been writing Beau Peep for the Daily Star since 1978, and commissioning Horace from him ten years later had been the Mirror's bid to bring Beau Peep fans over to its own paper.
Both those strips would be continuing too, and asking their writer to take on a third daily was no small matter. Kettle produced both Beau Peep and Horace with artist Andrew Christine, but knew he'd need a new partner for Andy. As long as that could be arranged, he said, he was prepared to give it a go.
Ken Layson had a keen respect for the strip's heritage, and refused to let it die without a fight
Layson's next stop was Roger Mahoney, the artist he'd commissioned to draw Mandy Capp with writer Carla Ostrer. Mahoney, a remarkably versatile artist, sold his first cartoons to the Mirror and the Daily Sketch in the early 1950s, and had since contributed strips to the Scottish Daily Record, the Sunday Express and the Daily Star too. He'd taken over a popular Express strip called The Gambols when its creator Barry Appleby died in 1996, and drawn it in flawless imitation of Appleby's style there for the following three years.
These were just the chameleon skills Layson needed in anyone drawing Andy, so he must have been relieved when Mahoney said "yes" too. His set his new team to work, and began slowly feathering their contribitions in with the pile of Smythe strips he was still using. At first, the new strips were uncredited.
"I think Ken decided not to risk upsetting the fans with a sudden change to a new by-line," Goldsmith says. "Because Reg Smythe had left a huge weight of material, he was able to mix and match. Some strips were the two Rogers' and some were Reg Smythe's. So he kind of eased it in to a new transition."
Mahoney was very aware of the weight of Andy's history as he studied Smythe's style and taught himself to copy its smallest quirks. "It's a tremendous responsibility taking over a world-class cartoon strip like Andy Capp," he told me. "You need to remember that, with all one's experience in this field of work, and all the strips of your own that you're created and sold, you have never achieved the success that Reg Smythe did.
"Every detail of the Andy Capp strip has contributed to its worldwide fame. You have to keep in mind how many editors round the world are checking what you do every day - and there are hundreds of them in more than 30 countries. An attitude of 'This will have to do', or 'I'll just knock this out quickly', will soon bring disaster. It needs constant attention to detail to keep the drawing from developing away from the original."
Given how difficult many commercial artists have found it to capture Smythe's style, it's all the more remarkable that Mahoney managed to catch it so well. "Even if it's Andy Capp's head in profile on a bag of Salsa Fries, you can see that those few lines weren't done by Reg Smythe," Hiley says. "It must be very difficult to take over from somebody else, to follow somebody else's style and remain true to their interpretation because that's what the readers want."
Once the two Rogers had found their feet, Layson felt confident enough to defend Andy's future with the Mirror bosses again. "Ken was very passionate about it," Goldsmith says. "Because he'd brought the two Rogers on board, he was able to show Piers their material and persuade him to give it a chance and carry on. But Andy Capp nearly came a cropper. Syndication was dropping off and nobody was interested in merchandising. Roger Kettle and Roger Mahoney really brought the strip back to life, and started to pick up the syndication again."
David & Charles Publishing liked the revived strip enough to start collecting it in book form, publishing collections in both 2004 and 2005. Kettle and Mahoney got a printed credit on the strip from 2004 onwards, just as Goldsmith, Garnett and Mahoney do today. Titan Books has already published one Andy Capp collection as well - again using the Kettle/Mahoney strips - and recently signed a deal with the new team for the first of their own collections.
Since Smythe's death, Andy has scored a second mention on The Simpsons and been shown on Family Guy in the midst of a dustball fight with Flo. He's also been given a statue in Smythe's native Hartlepool - and if you think that was simple matter to arrange, then you obviously haven't met the town's council. Plans for an Andy Capp statue there were first mooted just after Smythe's 1998 funeral, but it took the council a full five years even to decide which sculptor should make it. (89)
On January 10, 2003, the Hartlepool Mail reported that town councillor Kevin Kelly had discussed the shortlist of four possible artists with member's of Smythe's family, and they'd approved a Shrewsbury sculptor called Jane Robbins for the job. "It's really being done as a tribute to Reg Smythe as much as to Andy," Kelly said.
The estimated cost of the statue was then put at between £16,000 and £18,000, but Kelly was quick to assure Hartlepool ratepayers that they wouldn't have to shell out. "The Mirror has made millions out of Andy Capp," he said. "Wouldn't it be nice if they gave some of it back?"
Fourteen months passed in deafening silence. Then, on April 20, 2004, The Headland Environmental Improvement & Public Art Programme announced it had included some funds for the statue in its £2.5m spending plans. They were happy to stump up £8,500 of the total cost - which had now grown to an estimated £18,500. (90)
A year later, plans for the statue were shelved. "Beer-swilling, chain-smoking womaniser Andy Capp is thought by some to be politically incorrect in this day and age," the Hartlepool Mail explained. (91)
The paper sent a reporter out to ask Headland residents what they thought of this decision and everyone they quoted said they thought Andy was a great lad and that they saw no problem with the statue at all. "It's not offensive to women," Nicola Whittingham said. "Most blokes like to drink and there's nowt wrong with that". Carolyn McCarthy added: "I can't see anything wrong with Andy Capp. I think he's a canny little fella, me."
All Andy's supporters were identified by name, but no clue given to who his supposed opponents might be. The closest anyone came to naming somebody offended by the statue was that "thought by some" quote above.
Another two months passed, bringing us to July 10, 2005, when Councillor Edna Wright announced that Andy's statue was now back on the agenda, and had won a unanimous vote from members of the council's North Hartlepool Partnership board. "There was no reason for it to be shelved," she told reporters. "The statue was my main priority when I was chair of the Single Regeneration Board two or three years ago, and I proposed it again. We will now start looking for the money to do it." (92)
The Hartlepool Mail took this opportunity to survey its readers again and found that "a massive 88% of the people who voted wanted a statue of Andy". There was still no sign of any named individual or named organisation prepared to come out against the statue, merely a mention of what the Mail called "opposition in certain quarters".
Five months after Wright's announcement, the NHP announced it had just written to the Mirror asking for a contribution to the statue. "If the Mirror want to see Andy Capp, let us see some of their cash," said NHP chairman John Marshall. The Mirror confirmed it has received his letter, but had no more to say about it than that. (93)
"The idea of an Andy Capp statue was first discussed by the NHP around four years ago," the Hartlepool Mail slyly noted. "And it was a priority at that time."
Eight more months passed. Then, in August 2006, NHP set about delivering leaflets to every house in the area to gauge support for an Andy Capp statue. "The NHP is prepared to explore such a scheme, but only if there is clear support for it among local residents," Marshall explained. The cost of the statue was now put at £20,000. (94)
Marshall didn't say how much the leafleting campaign would cost, but the results duly came in and were reported in the Hartlepool Mail's September 27 issue. Of the 527 people who replied, 406 voted in favour of the statue - a share of 78%. Once again, no-one could name a single individual or organisation who objected to the statue, assuming only that it must be "thought by some" in "certain quarters" that "some people" would find it offensive. (95)
A site for the statue was chosen outside the Headland's Harbour of Refuge pub, the landlady there said she'd be delighted to have it, and all that remained was to confirm the planning permission. "So what if Reg Smythe's boozy hero was a workshy womaniser?" the Hartlepool Mail thundered. "His sins were only committed in someone's imagination, and have amused millions of people around the world."
The final deal struck with the Mirror was that they would provide £2,000 of the statue's £20,000 price, with NHP coughing up the rest. On April 20, 2007, Marshall and his colleagues visited Robbins' Shrewsbury studio and signed off on her final model for the statue's design. "It's a brilliant likeness," said Marshall. (96)
Given the go-ahead at last, Robbins worked quickly, and the statue was in place for its unveiling ceremony on June 28, 2007. Jean Smythe, Reg's second wife, whipped back the cloth to reveal a five-foot-tall bronze figures of Andy, posed leaning against a section of bar with a full pint glass at his elbow.
"I didn't think it was going to be an emotional day, but it has turned out to be one," she said. "The area where the statue is based is ideal. Reg grew up here. He used to muck about on the rocks and his first job was as a delivery boy for a shop just round the corner. He would have liked it." (97-99)