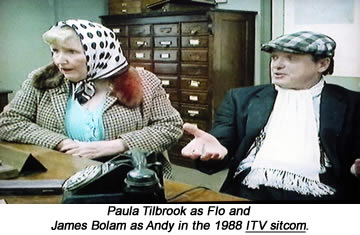 Enter Keith Waterhouse. Born in Leeds, Waterhouse had worked for the Mirror as a young reporter for most of the 1950s, then left to write a string of popular novels. His biggest hit as a novelist had been 1959's Billy Liar, which also did well as a film starring - wait for it - Tom Courtenay. He'd written gags for David Frost in the 1960s' TV satire boom, worked as a script doctor on Alfred Hitchcock's 1966 film Torn Curtain, then returned to the Mirror as a star columnist in 1970. He was almost uncannily perfect for the job.
When Gilbert approached him, Waterhouse agreed in principle to write the pilot but said he wasn't going to waste any time on it till Gilbert had the Mirror's approval sewn-up - and, as it turned out, that would take another four years.
Even with Cudlipp now out of the way, Mirror executives seemed incapable of deciding whether the Andy sitcom was a good idea or not. "The management dithered and buggered about and wouldn't release the rights," Waterhouse tells Lilley. "They were always slow to exploit Andy Capp."
Gilbert hoped things would speed up when Robert Maxwell bought the Mirror in 1984. Maxwell was a famously hands-on proprietor, but he had many concerns on the paper that took priority over Andy, and it wasn't until 1987 that he finally gave the sitcom proposal a green light. Smythe agreed to act as a consultant on the project, just as he had with Price's musical, once again taking the view that his main job was to ensure any glaring errors in Andy's personality were avoided. (77)
Much to Gilbert's relief, Waterhouse could now sit down and start writing at last. His first problem, as Peacock could have told him, was finding a way to make all Andy's disconnected strips link together in a continuing story.
He and Gilbert decided the answer was to give each episode of the planned six-part series a theme of its own: Flo wanting a new frock, for example, or Andy attempting to turn over a new leaf. Every script could then start with a few quick scenes recycling Smythe's best gags on that subject, then open out into a longer, less choppy narrative that picked up the same theme.
Davies worked hard to retain the same visual trademarks Smythe had always used in Andy's strip
They'd already decided to make the show with real actors and sets rather than animation, but both men were determined the series should reflect the look and spirit of Andy's cartoon world. Gilbert sent Waterhouse's first script to John Howard Davies, a former BBC colleague he'd worked with on Monty Python, The Good Life and Fawlty Towers, asking if he'd like to direct the new series. "I read the first script and decided on the spot to do it," Davies says. "It was just beautifully written."
The next step was casting, and everyone found they had the same name at the top of their lists: James Bolam. Bolam had made his name as Terry Collier in Dick Clement and Ian La Frenais' 1960s BBC sitcom The Likely Lads, and it's ten-years-on sequel Whatever Happened To The Likely Lads.
Terry, like Bolam himself, was a Tynesider, and the first series showed his adventures as a young factory worker in Newcastle with his mate Bob. In the second, we met both men again in their thirties, with Terry now unemployed after a spell in the army, but Bob moving into the middle class. Terry was shown throughout as what amounted to a younger version of Andy, happiest with a pint and a packet of fags in the local pub as he chatted up the barmaid.
Gilbert, Davies and Smythe all agreed Bolam was perfect for the part - not only because of his experience as Terry, but also because the actor was a Geordie of the right age to play Andy. "Rodney Bewes, the other Likely Lad, used to describe Bolam's character as an Andy Capp," Smythe tells Lilley. "He was a natural in everybody's mind."
"We always had James Bolam in mind," Gilbert confirms. "He read the first script, and then a development script from Keith. He loved it. That was it. He immediately wanted to do it." Paula Tilbrook, a veteran of shows like Coronation Street, Open All Hours and Last of the Summer Wine - all set in the North of England - agreed to play opposite Bolam as Flo.
By the time it was fully cast, the show had 17 regular characters in all. Andy, Flo, Chalkie, Ruby, Jack, Percy, the vicar and the policeman were all there, as were the bookie, the milkman, the pawnbroker, the HP man, the debt collector, the marriage guidance officer and Andy's (off-screen) mother-in-law. Waterhouse rounded off the cast with a couple of composite roles, using Shirley to represent every floozie Andy had ever pursued in the pub, and Walter to replace the many drunks Smythe had drawn him meeting in the canal.
It was a big cast for a sitcom, but Waterhouse decided each character must have at least one brief scene in every episode. "Everybody had to have his bit with Andy or about Andy, and that technique kept him constantly on screen," Davies says. "Even if he wasn't on the screen, somebody would be talking about him. Andy Capp was the only subject."
"Andy is very real to me," Waterhouse adds. "I thought I would have trouble with him because his only interests are his sport and his boozing and his womanising. But I began to realise he is the catalyst for other people's reactions. His very presence makes things happen. People get furious with him and make remarks about him. This is good for an actor - only having to walk on to a set for things to happen." It certainly seemed to work for Bolam. "Once we started filming, I became totally immersed in the role, and just felt the character of Andy coming to life," he tells Lilley. (78)
Gilbert and Davies decided to shoot the series' exterior sequences on film in various locations round London, including Acton, Willesden, Wood Green and Southall. They took the brave decision to do without a studio audience for the interior scenes, and opted not to dub on a laugh track either. The extra expense of film meant the show would have to succeed in a prime-time ITV slot to make it profitable, but Gilbert thought that was a risk worth taking.
Bolam decided to soften Andy's accent rather than play him in unadulterated Geordie, which he knew would annoy viewers on Tyneside, but help the show's prospects everywhere else. Price agreed to sing one of the musical's numbers as a theme song for the TV show, so that was soon sorted too.
Throughout the shoot, Davies worked hard to retain the visual trademarks Smythe had established in the strip. Andy was dressed in his usual check cap and muffler, and given a fag end between his lips in every scene. Flo wore headscarf, curlers, and - when seen late at night - her traditional ratty old housecoat.
Percy's rentbook had the word "RENT" written on it in big bold capitals, and he always held it so that was prominently displayed. Other cartoon techniques were used too, such as Andy hearing a tweeting noise when Flo clouts him with the rolling pin, or having him run out of the marriage guidance office so fast that the glass in the door shatters behind him.
Waterhouse had been careful to include the strip's occasional asides to camera and its character's post-hoc reactions to one another's punchlines in his scripts, and Davies shot these to look exactly as they had in the cartoon. He often showed Andy and Chalkie from the back - another trademark of Smythe's - and shot scenes at the pub through a frosted glass window to echo the cartoon's frequent use of silhouettes.
"The idea was still to think of it as a strip," Waterhouse says. "Which John Howard Davies did very cleverly by using techniques like holding the camera still so people could move in and out of frame. He was also very careful when shooting scenes of Andy and Chalkie walking. He had them lifting their feet and showing the soles of their shoes, as in the cartoon strip."
The Mirror published a special collection of Andy's strips to tie in with the TV show, and had Waterhouse provide an introduction explaining its approach. "Our boozing, womanising, pigeon-fancying, snooker-playing, plain-speaking hero would be lost in the slick world of supermarkets and fast cars," he writes. "He may be larger than life, but it has to be his own kind of life. So we've placed him in a kind of timeless northern limbo where they still donkey-stone the front steps." (25)
The series was shown on national ITV over six weeks in February and March of 1988. I was spending most of my own evenings in the pub then, so I never saw it in what remains its only broadcast to date. Luckily, Network DVD was just about to release the series on disc as I prepared this essay, and the company was kind enough to send me an advance copy. (79)
I was a bit nervous as I sat down to watch it, because I'd already read enough about the show's making to know there'd be no middle ground in my reaction to it. It was clear that everyone's heart had been in the right place, but any show as ambitious and as stylised as this was going to prove either a triumph or a disaster, and I didn't yet know which it would be.
In fact, I enjoyed the show enormously, noting with pleasure all the little grace notes I've mentioned above and a dozen more besides. Jack was there in his yellow check waistcoat, and the pub he ran was still called the Boilermakers' Arms. Whenever a real newspaper was shown on screen, I noticed, it was the Daily Mirror. Andy and Flo still lived at number 37, a fact confirmed by exactly the same shot of their open door Smythe had so often drawn.
When Andy was ejected from the pub he flew through the air in a fine demonstration of the strip's cartoon physics, and Bolam's pose when napping on the sofa was spot-on too. I counted 20 verbatim gags from the strip in the show's first episode alone, all delivered with great aplomb by the cast and filmed with a clear respect for Smythe's own style. I loved it.
And I wasn't the only one. "James Bolam, from the moment he sways into view, cap on head and fag in mouth, is Andy Capp," Janet Street-Porter wrote in her 1988 review for Today. "And Paula Tilbrook is perfect as poor Flo, the long-suffering spouse. I've never been quite sure why TV executives try to turn one successful and popular art form - the comic strip - into another, but in Andy Capp they have achieved their best results yet." (80)