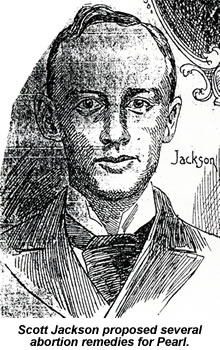 That was enough to give Crim a firm suspect in the killing, so he sent another telegram to Deitsch. "Arrest and charge with murder of Pearl Bryan one Scott Jackson, student at Dental College," he dictated. "About 24 years old, 5ft 7 or 8ins tall, weighs about 135 pounds. Blonde, nearly sandy moustache, light complexion, may have beard of about six months growth. Effeminate in appearance." Crim added a description of Will Wood, saying he should be arrested as an accomplice to the murder if Deitsch happened to find him in Cincinnati too.
Later that day, Crim, McDermott and Plummer shook off the reporters who'd been tailing them and left Greencastle for the 145-mile trip north to South Bend, Indiana, where they'd been told Wood was visiting his uncle. They arrived there in the early hours of Thursday morning, dragging Wood out of bed at about 4:00am to question him. He was reluctant to help them at first, claiming he knew nothing about Pearl's relationship with Jackson, but Crim soon changed his mind.
"I don't think you had anything to do with the girl's death," Crim told him. "We want you as a material witness against Jackson. You can either come with us without a fight, or I'll charge you with murder, take you back to Cincinnati and make you stand trial on that charge." Wood very sensibly chose the first option and, as he rode back towards Cincinnati on the train with his captors, he filled them in on just who Scott Jackson was. (12)


Scott Jackson was just 14 when his father died, and he began working as a messenger boy for the Pennsylvania Railroad Company in Jersey City. A few years later, he had risen to become a clerk there, and the company transferred him to its accounts receivable department where he worked for a Mr Letts. The two men became friends, and were often seen drinking together outside the office.
The $32,000 Jackson and Letts stole from PRC would be worth over $750,000 today
"Part of [Jackson's] job was to open the mail each day and add up the cheques to be deposited into the railroad's accounts," Greencastle's Banner Graphic reports. "His boss cooked up a scheme to steal some of the cheques, cash them and split the money. Most of the money was spent carousing at some of the most notorious saloons in Jersey City, and a good portion was bet on the horses. The theft amounted to over $32,000." (13)
Jackson's role in this scheme was to pocket the cheques and pass them to Letts, who would then cash them. The $32,000 they stole would be worth over $750,000 today, and it wasn't long before the company noticed something was wrong. An audit of Letts' department revealed the fraud, and both he and Jackson were charged with embezzlement. But the first trial ended in a hung jury.
"Before the second trial took place, the railroad company found such proof of Jackson's guilt that he found it healthy to turn state's evidence against Letts," Barclay says. "The latter was sentenced to a long term in the state prison. Jackson went free, and also went away from Jersey." Even Crim is unable to disguise his disgust as Jackson turning grass in this episode. "That was the kind of fellow he was," he snorts in his own memoir.
Jackson had a year or so as an advertising salesman in New York, again enjoying all the temptations a big city had to offer, and then followed his mother to Indiana. She'd moved to Greencastle after Jackson's sister married Dr Edwin Post, a Latin professor at DePauw. Jackson's mother was well-educated, and her daughter's good marriage meant the whole family was welcomed into the top tier of Greencastle's society. Jackson's good looks, manners and charm ensured he was a popular figure there. He studied at the dental school in Indianapolis, about 40 miles away, but spent most of his spare time in Greencastle itself.
One of the town's attractions was Pearl, who Jackson often encountered at dances and parties there. Jackson's father had been a transatlantic sea captain, taking his young son with him on voyages overseas whenever he could, and this gave the lad a stock of exotic tales guaranteed to impress Pearl. "They had the same friends, attended the same parties, and their acquaintance ripened into friendship," the CP reports. "The youth's stories of far-away places and strange experiences fascinated the maid."
"Jackson was a dapper fellow," one of his Greencastle friends adds. "He had smiling blue eyes, a high forehead, correct and attractive features and a pleasant voice. He was careful in his appearance and bright in his talk. [...] He was abstemious when it was to his advantage, but could drink heavily when he so desired."
With all this going for him, it's no wonder Greencastle's young ladies found Jackson so fascinating. "Pearl was stuck on Jackson from the first time they met," Wood said. "Jackson would come and get my horse and buggy and drive over to Pearl's house, where they would often go out driving together. Pearl was pretty and ambitious, but I never thought she would do wrong. Now I can see she was perfectly infatuated with Jackson from the start. I am convinced that she was completely in his power, and he took advantage of his influence over her."
We already know what form that advantage took. Jackson wasn't even introduced to Pearl until the Spring of 1895, and by that September he'd already made her pregnant. Nice girls weren't supposed to part their legs that quickly back then - particularly if they came from a well-to-do family like Pearl's - and the speed of her seduction shows what a fast worker Jackson could be. It may also tell us that Pearl was rather more worldly than her usual portrayal as a sweet, innocent country lass suggests.
Jackson got into a fight at the dental school in Indianapolis which led to him being arrested and fined. The CP says it was this incident which forced him to move to Cincinnati in October 1895 and resume his studies at the dental college there, but he may have been glad to escape Greencastle anyway. Soon after arriving in Cincinnati, he wrote to Wood seeking confirmation that Pearl was (as he euphemised it) "sick". Wood replied that this was true, and Jackson responded with the first of his abortion remedies. He also wrote to Pearl herself, assuring her that he missed her desperately in his lonely Cincinnati apartment, and wishing she could be there to cheer him up.