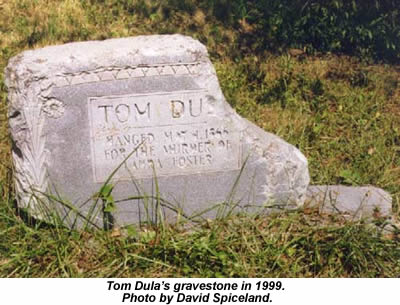 The Kingston Trio's hit prompted the American Legion to replace Tom's rudimentary headstone with a much nicer one, though they did get his date of death wrong by two years. Unfortunately, the record also made Tom so famous that souvenir hunters descended on the site almost immediately. They've been chipping fragments off the stone ever since, leaving it, as Foster West says, "incorrect in its information and sad in its mutilation."
About 20% of the stone has been stolen in this way now, which may explain why the land's owner discourages visitors


Most of the Tom Dula recordings since The Kingston Trio's hit follow one or other of the templates we've already discussed. Grayson & Whitter's fans include The New Lost City Ramblers (1961) and Sweeney's Men (1968), while Doc Watson can boast Steve Earle (2002), The Elkville String Band (2003) and The Carolina Chocolate Drops (2006). Most popular of all is the Trio's own Proffitt/Warner/Lomax version, which has inspired Lonnie Donegan (1958), The Frantic Flintstones (1990) and countless foreign language covers.
The new millennium has brought some songs telling the story from Ann or Laura's perspective
Others mix and match their chosen verses from whichever predecessors take their fancy. Sheila Clark's 1986 recording, for example, faithfully reproduces all four Kingston Trio verses, but tags on Franklin's lines about the change of venue and Tom's character too. Most mongrel of all is Lee Kelly's 2010 recording, which opts for a magpie mix of Grayson & Whitter, Franklin's additions and Pretty Polly's verse telling us how "her heart's blood did flow." Only Snakefarm can be said to really make the song their own, thanks to an imaginative 1999 treatment that recalls a spaghetti western soundtrack more than any bluegrass standard.
In 2001, the USA National Endowment for the Arts placed Tom Dooley on its list of 365 Songs of the Century, recognising its role in America's musical and cultural heritage. The Library of Congress admitted the Kingston Trio's disc to its National Recording Preservation Board archives in 2008 on the same grounds.
The new millennium has also brought a handful of songs telling Tom's story from Ann or Laura's perspective. Like Tom's own ballads, these often step in and out of their subject's shoes, giving us one verse from an outside narrator and the next from Tom, Ann or Laura themselves.
Laura's song comes courtesy of Angela Correa, who calls her 2004 offering Sunrise Your Hanging Day. She begins in Laura's own voice, mulling over Tom's offer of marriage, but knowing full well what his real intent must be:

"And you always say the same thing,
And you're always wearing your smile,
You say 'Come on up the hill with me darlin',
And we'll talk for a little while'.

"And you always ask it the same way,
Your mouth twisted to a crooked grin,
And I always understand your meaning,
Your mind is riddled with sin." (20)

As we all know, though, Laura followed Tom up the hill anyway, and that's when Correa steps out of character to give her own view:

"Tom Dooley you dirty old man,
You took Laura Foster up the hill by the hand,
And folks singing 'Hang down your head,' man,
But you'll get what you give,
Hanging is too good for you."

The Elkville String Band tackle Ann's story in Epitaph, a 2004 track which they subtitle The Ballad of Anne Melton. In this telling, Laura was pregnant with Tom's baby, he planned to leave North Carolina with her, and Ann just couldn't bear that thought. Nicole Vidrine starts the song as Ann, mourning Tom's death and recalling the crime they committed together, but then switches to her own voice as she pleads with Ann's ghost to repeat her deathbed confession. Here's my favourite two verses:

"As morning broke upon the hill,
With jagged blade our fates were sealed,
Her body in a shallow grave,
His unborn child not spared nor saved.

"So tell me now the secret words,
Your unloved husband finally heard,
As devils moaned beneath your bed,
Your troubled soul the fires it fed." (21)

The "unloved husband" here, of course, is the mythical James Grayson who Doc Watson describes above, and the devils are those Ann mentioned to Betsy Watson. In this song, Ann's ghost is left doomed to walk the Earth forever because her soul lacked a cleansing confession at the end.
Four of The Elkville String Band's five members were in the Wilkes Acoustic Folk Society too, and that ensemble helped The Wilkes Playmakers stage Karen Reynolds' Tom Dooley play for the first time in 2001. Reynolds, the great-great-great grand-daughter of Cowles Stores' original founder, calls her play Tom Dooley: A Wilkes County Legend, describing it as "a collection of fact, folklore and fiction".
I managed to find a cassette tape of the play during my September 2010 visit to Wilkesboro, which has about 20 of WAF's songs from the evening, plus some intriguing snatches of the play's key dialogue. Reynolds points out in her sleeve notes that the show's music is as important to telling its story as her script, and that's borne out with a very clever collection of bluegrass classics and other murder ballads. Wayfaring Stranger is apt for Tom's long walk over the mountains, for example ("I know my way is rough and steep"), while Long Black Veil suggests his supposed sacrifice for Ann ("I spoke not a word though it meant my life"). Best of all is Pretty Polly's account of the moment Laura sees her freshly-dug grave ("They went a little further and what did she spy? / A newly-dug grave with a spade lying by"). Polly begs to be her lover's "single girl" if she can't be his wife, but he stabs her in the heart anyway, lays her in the grave he'd spent all night digging and then throws a few spadefuls of dirt over her. That's not just Pretty Polly's story: it's Lovely Laura's too.
Listening to the tape, I was struck by how it handled the murder itself. We hear a scraping violin, followed by Laura screaming "Let me go, let me go! Oh, please don't hurt me! Why are you doing this?" There's then a long shriek from Laura, and the scene closes, with no indication of who's actually been doing the stabbing. I e-mailed Reynolds to ask what the audience sees on stage at this point.
"The play is just as ambiguous," she replied. " On the morning Laura and Tom were supposed to meet to get married, Laura arrives first. She hears something in the woods and thinks it's Tom teasing her. She decides to play along, and goes in after him. Then the same scream is heard, and that's the end of Act I. The second half of the show deals with Tom's capture, the trial and the hanging. But the whodunnit is left for the audience to decide."