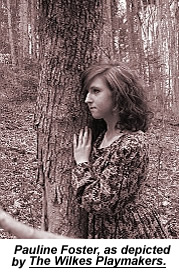 The play's been staged in Wilkesboro every year since 2001. WAFS had morphed into The Elkville String Band by 2003, which now handles music for the play. In 2006, the production moved to Wilkesboro's Forest Edge Amphitheatre, where it now pulls in as many as 800 people a night for its annual three-week run. The Kingston Trio performed at the same venue on the night the play was first performed there, creating what Reynolds calls "a great night when the ballad and the story came together".
Whatever your view of Tom, the idea of pardoning him on strict legal grounds can't be dismissed
Reynolds was also involved in a recent bid to win Tom a posthumous pardon, joining with a Wilkes County newspaper called The Record to argue that Tom's second trial had been just as flawed as his first. North Carolina governor Mike Easley refused the pardon in June 2009, closing the door on that prospect for another three years. It's sometimes said that Tom was granted a pardon in 2001, but that was just a local petition which carried no official force.
Whatever view you take of Tom's guilt, the possibility of a pardon on strictly legal grounds can't be dismissed. Foster West considers this question at some length in his book, and makes the following points:

* Jack Adkins and Ben Ferguson, the two Sheriff's deputies who pursued Tom across the state border, had no jurisdiction outside North Carolina, and hence no power to arrest Tom while he was in Tennessee.
* They had no power to deputise anyone outside North Carolina either, so Grayson remained a private citizen throughout the trip. He had no right to arrest Tom, nor to imprison him at Trade overnight.
* Without a Writ of Extradition, Adkins and Ferguson had no right to take Tom back to North Carolina against his will.
* Tom should have enjoyed the protection of the US Constitution from the moment he signed that Pledge of Allegiance in June 1865. Yet he was imprisoned on suspicion of murder long before Laura's body had been found. At that point, there was no proof that a crime had even been committed, and that makes Tom's arrest unconstitutional.
* Convicting someone on purely circumstantial evidence requires that evidence must "exclude every other reasonable hypothesis" - just as the judge instructed jury members at Tom's first trial. This is intentionally set as a high bar for the prosecution to clear, and they didn't do so in either trial.
"Thomas C. Dula was illegally arrested, illegally transported from Tennessee to North Carolina, and unconstitutionally incarcerated in the Wilkesboro jail," Foster West concludes. "His trials and the verdict of the two judges were blatantly unjust. However cruel and demoralised Tom Dula might have been, however distasteful his lifestyle, whether or not he murdered Laura Foster or conspired in her murder, he should never have been arrested as he was, found guilty and executed.
"So far as legal guilt and justice are concerned, Tom Dula can lift up his head."

For more on
Tom Dooley
, please go to this Amazon Kindle page (
US
/
UK
). The version of my essay there adds an exclusive interview with The Kingston Trio's Bob Shane, who explains how he first discovered the song and shares memories of the huge success its 1958 recording brought the band. The price is just £1.49 ($1.85 in US). Amazon has a free app allowing its Kindle titles to also be read on smartphones, tablets and computers.
Sources
1) Lift Up Your Head Tom Dooley, by John Foster West (Down Home Press, 1993). I've drawn heavily on Foster West's book in writing this piece. It's by far the most comprehensive and reliable source of facts on the story, and anyone interested in Dula's case should have a copy.
2) Taken from Judge Buxton's summary of witness statements at Dula's first trial.
3) New York Herald, May 2, 1868.
4) The World of My Childhood, by Rev, RL Isbell (Lenoir News-Topic, 1955).
5) The Murder of Laura Foster, by Captain Thomas Land (1866). Reproduced in (12) below.
5.5) In January 2018, I heard from Ben Hoyle, a North Carolina reader who'd been researching his own Wilkes County ancestors. He discovered from census records that both Vance's maternal grandfather, Zebulon Baird, and Tom's great uncle, William Dula, had lived in Elkville Township at the same time. "The Bairds and the Dulas would have been prominent families in that small township and surely knew each other," he says. "That family connection is likely the reason Zebulon Vance was willing to represent Tom Dula pro bono in the case."
6) Death in North Carolina's Piedmont, by Frances H Casstevens (The History Press, 2006).
7) Wilmington Daily Dispatch, October 26, 1866.
8) Salisbury North State, date unknown.
9) The Frank C Brown Collection of North Carolina Folklore, ed. Frank Brown (Duke University Press, 1952).
10) Tom Dula, as performed by The Carolina Chocolate Drops on their 2006 allbum Dona Got a Ramblin' Mind.
11) Tom Dooley, as performed by The Elkville String Band on their 2003 album Below the Gallows Tree.
12) Tom Dooley: The Eternal Triangle, by Rufus L Gardner (Gardner Enterprises, 1960).
13) Statesville American, November 5, 1868.
14) Tom Dooley, as performed by Grayson & Whitter in 1928.
15) Folk Songs From the Southern Highland, ed. Mellinger Edward Henry (JJ Augistin, 1938).
16) Tom Dooley, as performed by Doc Watson on his 1964 album Doc Watson.
17) The Songs of Doc Watson, by Doc Watson (Music Sales America, 1992).
18) Tom Dooley, as performed by Frank Proffitt on his 1962 album Traditional Songs & Ballads of Appalachia.
19) Folk Song USA, ed. By John & Alan Lomax (Plume 1975).
20) Sunrise Your Hanging Day. Written and performed by Angela Correa on her 2004 album Murder Ballads and Other Songs.
21) Epitaph (The Ballad of Anne Melton). Written by Jerry Lankford and performed by The Elkville String Band on their 2004 album Below the Gallows Tree.